Request for Proposals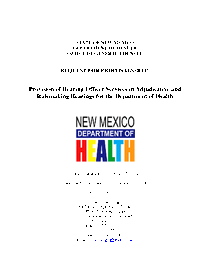 Provision of Hearing Officer Services in Adjudicative and Rulemaking Hearings
Administrative Services - Request for Proposal
October 10, 2014 - November 17, 2014
The purpose of the Request for Proposal is to solicit sealed proposals to establish multiple contracts through competitive negotiations for the procurement of the services of hearing officers to conduct adjudicative and rulemaking administrative hearings in connection with the Department's legal obligations to provide such hearings under various applicable statutory and regulatory requirements.
---
Pharmacy Consultation & Dispensing Services
HIV/AIDS Treatment - Request for Proposal
September 26, 2014 - October 28, 2014
The New Mexico Department of Health, Public Health Division, Infectious Disease Bureau, HIV Services Program is issuing a Request for Proposals for HIV Pharmacy Consultation and Dispensing Services. The purpose of this Request for Proposals is to solicit proposals to establish a contract for the professional services of a single dispensing pharmacy contractor.
---