Request for Proposals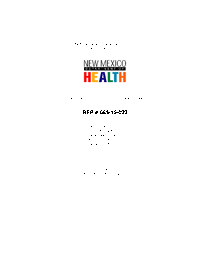 Insurance for Children
Children's Medical Services - Request for Proposal
April 15, 2015 - May 8, 2015
The State of New Mexico Department of Health Public Health Division Children's Medical Services is soliciting proposals from qualified applicants to assist the program in placing children and youth with high cost medical conditions onto the most optimum insurance plan, managing their enrollment and acting as fiscal agent for Children's Medical Services payment of monthly premiums.
---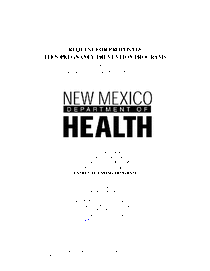 Teen Pregnancy Prevention Programs
Teen Pregnancy Prevention - Request for Proposal
April 13, 2015 - May 15, 2015
The primary goal of this RFP is to select multi Offerors to assist the Family Planning Program in developing and supporting quality teen pregnancy prevention programming in communities throughout New Mexico in order to bring about meaningful and measurable reductions in teen births.
---
Non-Profit Producer License Request for Applications
Medical Cannabis Program - Request for Proposal
March 5, 2015 - May 1, 2015
The New Mexico Department of Health is requesting applications from parties interested in being licensed as a non-profit medical cannabis producer in New Mexico.