Request for Proposals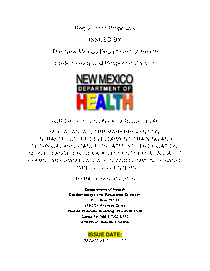 Sexual Violence Services
Injury Prevention - Request for Proposal
March 10, 2015 - April 9, 2015
The purpose is to fund statewide sexual violence services in six service provision areas.
---
Hepatitis and Harm Reduction Interventions & Services
Harm Reduction - Request for Proposal
March 9, 2015 - April 9, 2015
The department's Hepatitis and Harm Reduction Program is issuing this Request for Proposals to contract with capable individuals and organizations for statewide delivery of hepatitis and harm reduction interventions and services.
---

Primary Care Services
Primary and Rural Health - Request for Proposal
March 6, 2015 - April 6, 2015
The New Mexico Department of Health, Public Health Division, Rural Primary Health Care Act Program is issuing a Request for Proposals to provide financial assistance to eligible programs that demonstrate a need for assistance in order to sustain a minimum level of delivery of primary care services in health care underserved areas of New Mexico pursuant to the Rural Primary Health Care Act.