Forms

Certificate of Exemption from Immunization
Immunization - Form
September 2, 2014
This form may be used by individuals requesting a religious or medical exemption to immunization for their children whom attend any public, private or parochial pre-school, kindergarten, elementary, secondary school, or home school and for children attending daycare of childcare facilities.
---
VFC Vaccine Ordering & Inventory Form
Immunization - Form
September 2, 2014
This form allows ordering the ordering of VFC vaccines.
---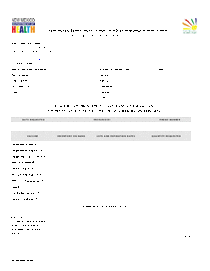 Adult Vaccine Order Form
Immunization - Form
July 21, 2014
Healthcare providers may use this form to order adult vaccines.