Forms
Translation Services Request
Language Access Services - Form
October 24, 2014
Complete this form to request translation services.
---
VFC Annual Recertification Form
Immunization - Form
October 17, 2014
All VFC providers are required to submit this annual VFC certification form in order to continue receiving VFC vaccines.
---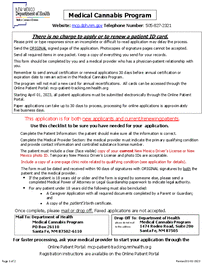 Patient Application
Medical Cannabis Program - Form
October 16, 2014
The application for first time and returning patients is the same. Please complete this form and submit it with a copy of your current New Mexico driver's license or state identification card. Temporary ID's are not accepted. You must provide documentation to support diagnosis of the medical condition, past treatments, potential health benefit vs. risk of Medical Cannabis and the date(s) of service.