Reports
Medical Cannabis Patient Statistics Report
Medical Cannabis Program - Report
October 28, 2015
This report contains the most current medical cannabis patient statistics available.
---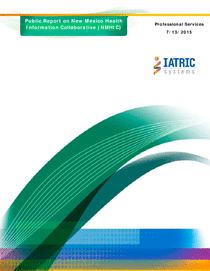 New Mexico Health Information Collaborative Assessment
Health System Innovation - Report
September 11, 2015
In support of the initial planning phases of the state of New Mexico's Health System Innovation initiative, Iatric Systems was engaged to provide a number of consulting related services. More recently, Iatric Systems was asked to provide an initial, high-level assessment of the state – New Mexico Health Information Collaborative - in terms of its technical capabilities and readiness to provide some level of the information technology infrastructure needed.
---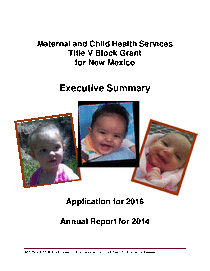 Title V Block Grant - Application 2016 & Annual Report 2014
Maternal & Child Health - Report
September 1, 2015
Every year each state is required to submit an Application and Annual Report for the Title V MCH Services Block Grant to the Federal Maternal Child Health Bureau (MCHB) in the Health Resources and Services Administration (HRSA).