Reports
Racial and Ethnic Health Disparities Report 2014
Assessment and Planning - Report
January 7, 2015
The purpose of this report is to identify important racial and ethnic health disparities in New Mexico so that diverse organizations and agencies, including the Department of Health, can design and implement evidence-based interventions to improve health equity.
---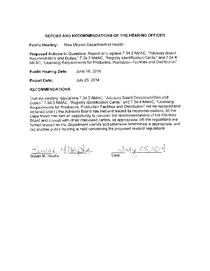 Report and Recommendations from the Proposed Rule Changes Hearing
Medical Cannabis Program - Report
August 7, 2014
On June 16, 2014, the New Mexico Department of Health held a public hearing at the Harold Runnels Building Auditorium in Santa Fe, New Mexico regarding the proposed repeal and replacement of NMAC 7.34.2, NMAC 7.34.3, and NMAC 7.34.4. This report outlines the hearing officer's report and recommendations.
---
Title V Block Grant - Application 2015 & Annual Report 2013
Maternal & Child Health - Report
July 31, 2014
Every year each state is required to submit an Application and Annual Report for the Title V MCH Services Block Grant to the Federal Maternal Child Health Bureau (MCHB) in the Health Resources and Services Administration (HRSA).