Reports
Health Equity in New Mexico Report 2015
Assessment and Planning - Report
February 1, 2016
The purpose of this report (formerly the Racial and Ethnic Health Disparities Report) is to identify important health disparities in New Mexico so that diverse organizations and agencies, including the Department of Health, can design and implement evidence-based interventions to improve health equity.
---
School-Based Health Centers Status Report 2015
School and Adolescent Health - Report
December 18, 2015
Data presented in this report represents the efforts of the Office of School and Adolescent Health-supported School Based Health Centers in New Mexico.
---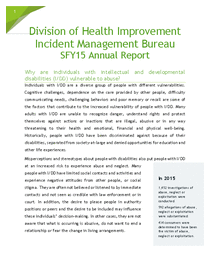 Incident Management Bureau Annual Report SFY15
Incident Management - Report
December 17, 2015
This is the Division of Health Improvement Incident Management Bureau annual report for SFY2015.