Asthma Control Program
The asthma program is funded by a cooperative agreement with the CDC National Center for Environmental Health. Since 2000, the program has worked with many groups statewide to address asthma disparities in order to reduce the state's burden of asthma.
---
Latest
Popular
---
Featured
Latest
---
Featured
Latest
Popular
---
Latest
Popular
---
Asthma Facts
What is asthma?
Asthma is a disease that affects your lungs. It is one of the most common long-term diseases of children, but adults can have asthma, too. Asthma causes wheezing, breathlessness, chest tightness, and coughing at night or early in the morning. If you have asthma, you have it all the time, but you will have asthma attacks only when something bothers your lungs.
In most cases, we don't know what causes asthma, and we don't know how to cure it. We know that if someone in your family has asthma you are more likely to have it.
How do I know if I have asthma?
Common signs and symptoms of asthma include:
Coughing. Coughing from asthma often is worse at night or early in the morning, making it hard to sleep.
Wheezing. Wheezing is a whistling or squeaky sound that occurs when you breathe.
Chest tightness. This may feel like something is squeezing or sitting on your chest.
Shortness of breath. Some people who have asthma say they can't catch their breath or they feel out of breath. You may feel like you can't get air out of your lungs.
Not all people who have asthma have these symptoms. Likewise, having these symptoms doesn't always mean that you have asthma. The best way doctors have to diagnose asthma is to use a Lung Function Tests, ask about medical history (including type and frequency of symptoms), and do a physical exam.
The type of asthma symptoms you have, how often they occur, and how severe they are may vary over time. Sometimes your symptoms may just annoy you. Other times, they may be troublesome enough to limit your daily routine. Severe symptoms can be fatal. Thus, treating symptoms when you first notice them is important, so they don't become severe. With proper treatment, most people who have asthma can expect to have few, if any, symptoms either during the day or at night.
Talk with a healthcare provider if you or someone in your family has trouble breathing or is experiencing asthma symptoms. Each person with asthma can react differently to different things, so it's sometimes difficult to tell if someone has asthma, especially in children under age 5. Having a doctor check how well your lungs work and check for allergies can help you find out if you have asthma. Your doctor will help you find out which things (triggers) may cause your asthma to flare up if you come in contact with them.
During a checkup, the doctor will ask if you cough a lot, especially at night, and whether your breathing problems are worse after physical activity or at certain times of year. The doctor will also ask about chest tightness, wheezing, and colds lasting more than 10 days. They will ask whether anyone in your family has or has had asthma, allergies, or other breathing problems, and they will ask questions about your home. The doctor will also ask if you have missed school or work and about any trouble you may have doing certain things. The doctor will also do a breathing test, called spirometry, to find out how well your lungs are working. The doctor will use a computer with a mouthpiece to test how much air you can breathe out after taking a very deep breath. The spirometer can measure airflow before and after you use asthma medicine.
What is an asthma attack?
An asthma attack may include coughing, chest tightness, wheezing, and trouble breathing. The attack happens in your body's airways, which are the paths that carry air to your lungs. As the air moves through your lungs, the airways become smaller, like the branches of a tree are smaller than the tree trunk. During an asthma attack, the sides of the airways in your lungs swell and the airways shrink. Less air gets in and out of your lungs, and mucous that your body makes clogs up the airways even more.
You can control your asthma by knowing the warning signs of an asthma attack, staying away from things that cause an attack, and following your doctor's advice.
When you control your asthma:
You won't have symptoms such as wheezing or coughing.
You'll sleep better.
You won't miss work or school.
You can take part in all physical activities.
You won't have to go to the hospital.
What causes an asthma attack?
An asthma attack can happen when you are exposed to "asthma triggers." Your triggers can be very different from those of someone else with asthma. Know your triggers and learn how to avoid them. Watch out for an attack when you can't avoid the triggers.
What are asthma triggers?
Asthma triggers are anything in the environment that makes your asthma worse. They can include:
Allergens from dust, animal fur, cockroaches, mold, and pollens from trees, grasses, and flowers.
Irritants such as cigarette smoke, air pollution, chemicals or dust in the workplace, compounds in home décor products, and sprays (such as hairspray).
Medicines such as aspirin or other nonsteroidal anti-inflammatory drugs and nonselective beta-blockers.
Sulfites in foods and drinks.
Viral upper respiratory infections, such as colds.
Physical activity, including exercise.
Strong emotions.
Other health conditions can make asthma harder to manage. Examples of these conditions include a runny nose, sinus infections, reflux disease, psychological stress, and Sleep Apnea. These conditions should be treated as part of an overall asthma care plan. Asthma is different for each person. Some of the triggers listed above may not affect you. Other triggers that do affect you might not be on the list.
How Is Asthma Treated?
Control your asthma and avoid an attack by taking your medicine exactly as your doctor tells you and by staying away from things that can trigger an attack.
Everyone with asthma does not take the same medicine. Some medicines can be breathed in, and some can be taken as a pill. Asthma medicines come in two types—quick-relief and long-term control. Quick-relief medicines control the symptoms of an asthma attack. If you need to use your quick-relief medicines more and more, visit your doctor to see if you need a different medicine. Long-term control medicines help you have fewer and milder attacks, but they don't help you while you are having an asthma attack.
Asthma medicines can have side effects, but most side effects are mild and soon go away. Ask your doctor about the side effects of your medicines.
Remember – you can control your asthma. With your healthcare provider's help, make your own asthma action plan. Decide who should have a copy of your plan and where he or she should keep it. Take your long-term control medicine even when you don't have symptoms.
---
What does the asthma program do?
Conduct Asthma Surveillance
We do this by collecting and analyzing data from various systems statewide such as hospitals, emergency departments, schools, tribal governments and others. The Program shares results with community stakeholders, the general public and public health colleagues. Program and communities gain better understanding from these results.
Develop Working Partnerships Statewide
Including healthcare providers, health plans, hospitals, non-profit groups, state agencies, public schools and childcare centers, tribal affiliated groups, university hospital and others. The concerted efforts of the Asthma Program and working partners aim for improving awareness of asthma disparities and developing sustainable programs for reducing asthma rates in New Mexico. The Program also partners with Healthy Homes, Lead Poisoning, and Occupational Health Surveillance to improve coordinated outreach efforts and provide updated indoor environmental health information and education for the public housing sector, families, community and occupational health partners. Poor indoor air and unhealthy living environments are linked to worsening of asthma symptoms.
Plan, Develop & Incorporate Asthma Scientific-Based Education Interventions
We do this for pre-school and school-age children as well as healthcare providers. The Asthma Program has implemented the Open Airways for Schools, Asthma and Allergy Essentials for Child Care Providers, Physician Asthma Care Education (PACE) and supports the implementation of other school programs such as EPA's Indoor Air Quality Tools for Schools.
Evaluate Program Activities
We use evaluation to figure out what's working well and what else is needed. Our partners and the participants in our asthma activities are important to evaluation: in deciding which questions are important to ask, and in providing information that will help us find useful answers. Program evaluation helps our program staff and project partners look at both the "big picture" (how activities around the state support our ultimate goal, improved quality of life for all New Mexicans with asthma) and the "local picture" (how a specific activity, like an asthma education program at a clinic, has been delivered, what the results were, and how those results might be improved).
---
New Mexico Council on Asthma
The New Mexico Council on Asthma (NMCOA) presents a state asthma plan to guide asthma stakeholders and the health community for the next five years (2014-2019) to improve asthma outcomes in the state. The NMCOA is a coalition of healthcare organizations sharing a vested interest in reducing the disease burden by making significant improvements in the care of people with asthma.
---
Healthcare Professionals
New Mexico Resources
Senate Bill 75 - Schools Have Option to Stock Emergency Medications
In February 2014, the New Mexico Legislative Session passed a Senate Bill 75 allowing schools the option to stock emergency supply of epinephrine auto-injectors and emergency supply of albuterol to be used in an emergency in a school setting.
On March 9, 2014, Governor Martinez signed this into law to be effective in January 2015.
In the meantime, the New Mexico Department of Health is the lead agency in drafting administrative rules, (best practices) explaining in detail how it intends to put the law into effect. The administrative rules will serve as a guide to the schools, parents, caregivers, physicians, and pharmacists about what to do to comply with the law.
Asthma Action Plan for Schools
The Asthma Action Plan for Schools was created in 2012 by the New Mexico Council on Asthma (NMCOA). It is intended for use by school nurses, physicians and parents/guardians, to use as a disease management tool for each individual child with asthma. Asthma action plans are important because they provide valuable information about the child's disease severity. Having access to this information greatly assists in helping the child control his/her symptoms for a continued daily, normal lifestyle and to minimize asthma episodes.
Available in both English and Spanish.
Guidelines for Diagnosis & Management of Asthma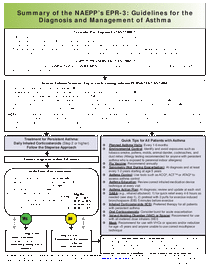 New Mexico Council on Asthma (NMCOA) obtained permission to use this guideline from the California Public Health Initiative.
This guideline is based on the recommendations from the NAEPP EPR-3 and is intended to assist the clinician in the diagnosis and management of asthma and should not be construed as a replacement for individualized evaluation and treatment based on clinical circumstances.
Detailed recommendations on this complex topic are available on the Exploring Asthma web page.
University of New Mexico
National Resources
---
Kids
BAM! Body and Mind
BAM! Body and Mind is an online destination for kids created by the Centers for Disease Control and Prevention (CDC), an agency of the US Department of Health and Human Services.
Designed for kids 9-13 years old, BAM! Body & Mind gives them the info they need to make healthy lifestyle choices.
The site focuses on topics that kids told us are important to them — such as stress and physical fitness — using kid-friendly lingo, games, quizzes, and other interactive features.
AirNow Kid's Air
The AirNow Kid's Air website offers helpful ways for kids to learn about air quality and clean air.
The air quality index for kid's page is designed for kids 7 to 10 years old. It shows children how to moderate their activity to play outside safely when air pollution levels are high.
The clean air for kids page is designed for kids, aged 5 to 6 years old. It shows them when the air is clean enough to play outside and when they should stay inside to play.
Kids Health Asthma Center
The Kid's Health Asthma Center website links to government agencies, schools, and education organizations. Kids can search this site to learn about asthma basics.
The site offers an asthma movie, travel tips, word games, a daily asthma diary, and stories from other kids who have asthma.
NIEHS Kids
The NIEHS Kids website provides a wealth of environmental information from kids ranging from recycling and healthy living to pollution and science.
Teaches kids with sing-along songs, coloring pages, optical illusions, and more. Also has a little kids section.
Quest for the Code® Asthma Game
The Starlight Children's Foundation's Quest for the Code® Asthma Game helps kids and teens, aged 7 to 15 years, learn how to manage their asthma.
Calls upon kids to determine the fate of the city. An evil villain is planting a timed asthma deployer to be set off at a remote location. His evil plan to convince kids they can't manage their asthma!
Kids can win the game by battling mucus argon and his monsters which include dander flake, perfuma, smokita, roboroach, and others. This site is well made, fun, and very educational.
---
Asthma Reports & New Mexico Statistics
The Burden of Asthma in New Mexico: 2014 Epidemiology Report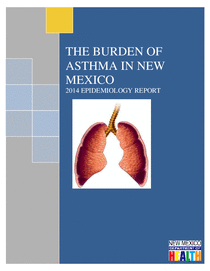 The Burden of Asthma in New Mexico: 2014 Epidemiology Report uses the most recent data available from the New Mexico asthma surveillance system to present a comprehensive picture of the burden of asthma in the state. The surveillance system is made up of several data sources, including health surveys, emergency department data, hospitalization data, Medicaid data and mortality data.
Using data presented in this report, the New Mexico Asthma Control Program, along with other health care professionals dedicated to improving asthma care, can appropriately target education and intervention programs and shape policies that are necessary to prevent and control asthma in New Mexico.
---
School Health
New Mexico Resources
Student's Right to Self-Administer Certain Medications
New Mexico law requires all schools, whether public or private, to grant to any student in grades K-12 authorization to carry and self-administer health care practitioner prescribed asthma treatment medication, anaphylaxis emergency treatment medication, and diabetes treatment medication under specific conditions.
Please read NMAC 6.12.2 and NMAC 6.12.8 for details.
Managing Asthma in New Mexico Schools
Asthma Management in Schools is part of a coordinated effort, as presented by Healthier Schools-New Mexico and illustrated by the yucca and the corn stock models, is essential in promoting a healthy school environment for everyone, especially for student and staff members who are coping with asthma or other respiratory problems.
The tools and resources in the manual will help school nurses, teachers, administrators, other school staff, students, and families maintain a standard asthma care and management regime and best practices for asthma friendly school environments.
School Health Manual
The New Mexico School Health Manual was developed for the purpose of providing guidelines and recommendations to school nurses and other school health personnel for coordinated school health practice and programs throughout the state.
The Office of School and Adolescent Health (OSAH) continues to assist users of the manual to transition from the historical heard copy to the Web-based version and Compact Disc version.
One updated Compact Disc copy is available annually for distribution from OSAH to each New Mexico school district and can be replicated by the district as needed.
National Resources