National Public Health Accreditation
The Office of Policy and Accountability (OPA) is responsible for coordinating the Department's National Public Health Accreditation program. The goal of the National Public Health Accreditation program is to improve and protect the health of the public by advancing the quality and performance of public health departments.
Public health accreditation is a national, voluntary standards-based program. Accreditation standards are based on 12 Domains which include the 10 Essential Public Health Services, Administration and Management, and Governance.
The Centers for Disease Control and Prevention (CDC), in partnership with the Robert Wood Johnson Foundation, is supporting the implementation of a national voluntary accreditation program for local, state, territorial, and tribal health departments. Please visit their National Voluntary Accreditation for Public Health Departments page for more information.
The Public Health Accreditation Board (PHAB) has been established to serve as the independent accrediting body. Please visit the Public Health Accreditation Board website for more information.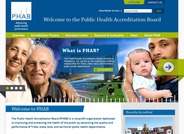 In response to the accreditation standards, OPA provided oversight to the development of the three accreditation prerequisites: a State Health Assessment (SHA), Department Strategic Plan (SP), and a State Health Improvement Plan (SHIP). OPA is also responsible for facilitating other PHAB accreditation requirements. All of these efforts are designed to improve public health infrastructure, strengthen quality and performance improvement within all public health programs and improve the partnerships we have throughout the state.
---
Timeline
| Date | Event |
| --- | --- |
| October 2011 | PHAB began accepting accreditation applications. |
| March 2012 | NMDOH formed accreditation teams. |
| May 2012 | NMDOH submitted the Statement of Intent. |
| May 2013 | NMDOH completed prerequisite documents, and applied for accreditation. |
| May 2014 | NMDOH selected documentation for each measure, uploaded the documentation into e-PHAB, and submitted it to PHAB. |
| December 2014 | NMDOH particpated in the PHAB site visit at the Runnels Building. |
---
Submission
On Tuesday, May 13th, 2014, the NMDOH submitted final documentation for each measure. Included in the final documentation, are the following updated three prerequisite documents.