General

Vendor Above 50% NTE
Women Infants and Children - General
July 25, 2014
This document provides a reference of items, their new and current values, and status for any vendor who derives more than 50 percent of their food sales revenue from WIC food instruments.
---
License Verification Report
Emergency Medical Services - General
July 1, 2014
This is a searchable document which lists of all of the currently licensed Emergency Medical Systems individuals. It can be used for license verification purposes and is updated at regular intervals.
---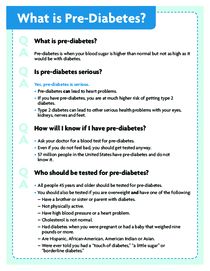 What is Prediabetes?
Diabetes Prevention and Control - General
March 27, 2014
Answers common questions about what prediabetes is, the seriousness of it, how to know if you have prediabetes, who should be tested for prediabetes, and what you can do if you are diagnosed with prediabetes.