Plans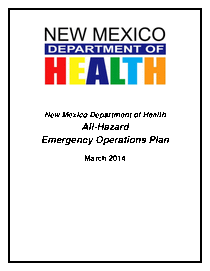 All-Hazard Emergency Operations Plan
Health Emergency Management - Plan
November 6, 2014
This plan establishes the basis for coordination of DOH resources and response to provide public health and medical services during an emergency or disaster. The fundamental assumption is that a significant emergency or disaster may overwhelm the capability of the local government or the healthcare system to carry out operations necessary to save lives and protect public health.
---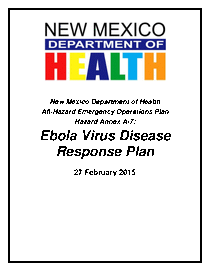 Ebola Virus Disease Response Plan
Ebola Virus Disease - Plan
October 30, 2014
The New Mexico Department of Health All-Hazard Emergency Operations Plan Hazard Annex A-7: Ebola Virus Disease Response Plan describes the management and coordination of NMDOH and statewide resources and personnel during an Ebola-related response scenario.
---
Quality Improvement Plan
Performance Improvement - Plan
June 16, 2014
Provides guidance about how the New Mexico Department of Health will manage, deploy, and review quality throughout the organization. It describes the processes and activities that will be put into place to ensure quality deliverables are produced consistently and are continuously improved.