Plans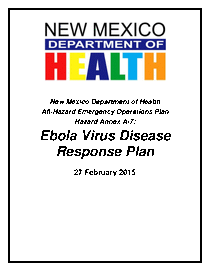 Ebola Virus Disease Response Plan
Ebola Virus Disease - Plan
October 30, 2014
The New Mexico Department of Health All-Hazard Emergency Operations Plan Hazard Annex A-7: Ebola Virus Disease Response Plan describes the management and coordination of NMDOH and statewide resources and personnel during an Ebola-related response scenario.
---
Quality Improvement Plan
Performance Improvement - Plan
June 16, 2014
Provides guidance about how the New Mexico Department of Health will manage, deploy, and review quality throughout the organization. It describes the processes and activities that will be put into place to ensure quality deliverables are produced consistently and are continuously improved.
---
Workforce Development Plan 2014
Performance Improvement - Plan
May 15, 2014
Training and development of the workforce is one part of a comprehensive strategy toward agency quality improvement. Fundamental to this work is identifying gaps in knowledge, skills, and abilities through the assessment of both organizational and individual needs, and addressing those gaps through targeted training and development opportunities.