Plans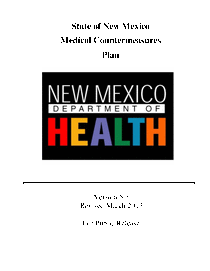 Medical Countermeasures Plan
Strategic National Stockpile - Plan
January 25, 2016
This plan describes the systematic organization employed to plan for and implement a response to a declared or non-declared disaster or emergency. It may be used in conjunction with requested assets to perform response activities requiring medical countermeasure response throughout the State.
---
Strategic Plan for the Primary Prevention of Sexual Violence 2015-2020
Sexual Violence Prevention - Plan
January 11, 2016
This plan serves as a path toward ending sexual violence. It is meant to be used by agencies, organizations, universities, community coalitions, policy‐makers, prevention professionals, and other individuals interested in reducing the burden of sexual violence in New Mexico.
---
Pandemic Influenza Operational Plan
Health Emergency Management - Plan
June 3, 2015
A pandemic has the potential to result in large numbers of deaths (estimated between 20,000-25,000 deaths in New Mexico), overwhelming the New Mexico's mortuary resources, including morgue capacity, medical investigative and forensic personnel, and services available for disposition of bodies. A pandemic is highly likely to produce large numbers of sick people that require care at the same time.