Plans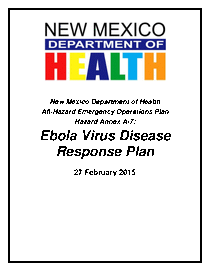 Ebola Virus Disease Response Plan
Ebola Virus Disease - Plan
March 2, 2015
The New Mexico Department of Health All-Hazard Emergency Operations Plan Hazard Annex A-7: Ebola Virus Disease Response Plan describes the management and coordination of NMDOH and statewide resources and personnel during an Ebola-related response scenario.
---
Strategic Plan 2014-2016 (FY16 Update)
Assessment and Planning - Plan
January 7, 2015
A roadmap for the agency on how to remain a vital part of an effective health system today and into the future. In order to achieve this purpose, we must commit to doing all we can to ensure that there is an adequate and competent workforce, and that we are collaborating with our partners to create community environments that promote healthy lifestyles and the prevention of injury and disease.
---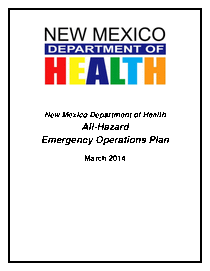 All-Hazard Emergency Operations Plan
Health Emergency Management - Plan
November 6, 2014
This plan establishes the basis for coordination of DOH resources and response to provide public health and medical services during an emergency or disaster. The fundamental assumption is that a significant emergency or disaster may overwhelm the capability of the local government or the healthcare system to carry out operations necessary to save lives and protect public health.