Medical Cannabis Program
Important Announcement
The Department of Health has issued a Request for Proposals (RFP) for a Medical Cannabis Program Software Application.
The RFP provides all information necessary to respond to this solicitation.
A Pre-Proposal conference will be held soon in order to answer any questions. The date, time and location of the conference can be found within the RFP document.
Interested parties should visit the State Purchasing Division Active Bids & Proposals page to access the official RFP document and instructions.
Reminder: The public comments period for the proposed rule changes to the MCP is now closed. The Department plans to open the Licensed Non-Profit Producer application period after any rule changes become effective. Until then the Department and MCP have no further information regarding applications.
Medical Practitioners, Applicants, and Qualified Patients
The Patient Application and Personal Production Application have been updated! Beginning July 1, 2014 only new applications will be accepted. The new application includes Huntington's and Parkinson's disease as qualifying conditions and have "Revised 3/20/2014" at the bottom of each page. Please share this application change with your Certifying Medical Provider and contact the MCP if you have any questions.
Remember, by using the new application forms and filling them out completely, you will help the MCP to ensure that applications are processed as quickly as possible. The Medical Cannabis Program encourages everyone to check the website regularly for program information and updates.
---
Latest Publications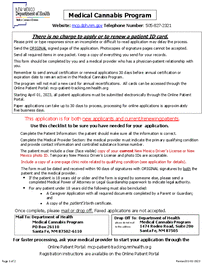 Patient Application
Medical Cannabis Patients & Caregivers - Form
October 16, 2014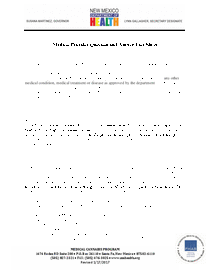 Provider Frequently Asked Questions
Medical Cannabis Healthcare Providers - Help
October 1, 2014