Marketing
Nursing Careers Flyer
Employment Opportunities - Marketing
April 20, 2015
This flyer contains all the information needed to browse and apply for nursing jobs with the New Mexico Department of Health. It also contains the direct telephone numbers of several key staff members you can call to ask questions and learn more about the many opportunities that we have available.
---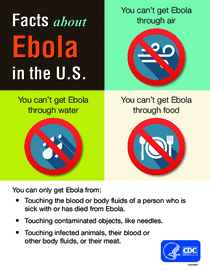 Ebola Infographic
Ebola Virus Disease - Marketing
October 17, 2014
Infographic that explains the basics about the Ebola virus disease.
---
Silicosis in New Mexico Infographic
Occupational Health Surveillance - Marketing
July 11, 2014
This infographic illustrates that New Mexico has historically high rates of silicosis because of mining. However, not all silicosis in the state is mine-related. It clearly shows the relative comparison of deaths from or with silicosis by industry between mining, construction, or other industries. It goes on to explain that silicosis is a preventable occupational lung disease that is caused by breathing in dusts containing crystalline silica and more.