Marketing
Silicosis in New Mexico Infographic
Occupational Health Surveillance - Marketing
July 11, 2014
This infographic illustrates that New Mexico has historically high rates of silicosis because of mining. However, not all silicosis in the state is mine-related. It clearly shows the relative comparison of deaths from or with silicosis by industry between mining, construction, or other industries. It goes on to explain that silicosis is a preventable occupational lung disease that is caused by breathing in dusts containing crystalline silica and more.
---
Asthma Brochure
Asthma - Marketing
April 1, 2014
This double-sided tri-fold brochure explains general information about our asthma program including statistics, contact information, and a list of website resources to learn more about asthma.
---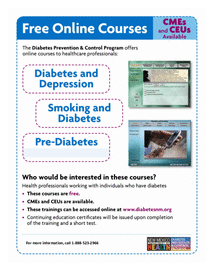 Free Online Prediabetes CME Course
Diabetes Prevention and Control - Marketing
March 27, 2014
Flyer advertising free online courses for healthcare professionals working with individuals who have diabetes. Explains all the details and provides contact information to find out more.