Publications
Flu Report (2014-2015) Week 11/15/14
Influenza Surveillance - Health Data
November 21, 2014
This report contains surveillance data on Influenza Like Illness (ILI) activity throughout New Mexico for the specified time frame of the flu season. It features informative graphs and statistics that show in detail how many people have been effected in each region of the state.
---
Fall-Related Deaths and Injuries Among Older Adults in NM
Injury Prevention - Newsletter
November 21, 2014
This report addresses fall-related deaths, hospitaliza-tions and emergency department visits among New Mexico adults who are aged 65 years or older. The number and rate of fall-related injury deaths, hos-pitalizations and ED visits among NM residents were calculated for this report.
---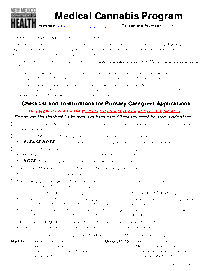 Caregiver Application
Medical Cannabis Program - Form
November 20, 2014
To enroll as a personal caregiver for an existing medical cannabis patient(s), you must complete this application and submit it with a copy of your New Mexico driver's license or state identification card and background check.