Publications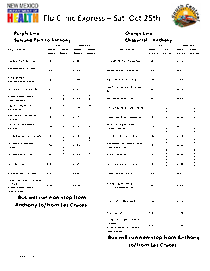 Flu Express Pick Up Times and Locations
Southwest Public Health Region - Help
October 17, 2014 - October 25, 2014
South Central Regional Transport will also be offering transportation to Memorial Medical Center the day of the event from outlying regions of the county, including Sunland Park, Anthony and Chaparral.
---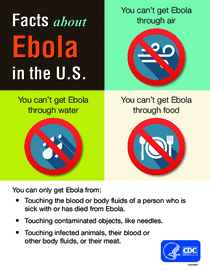 Ebola Infographic
Ebola Virus Disease - Marketing
October 17, 2014
Infographic that explains the basics about the Ebola virus disease.
---
Flu Report (2014-2015) Week 10/11/14
Influenza Surveillance - Health Data
October 17, 2014
This report contains surveillance data on Influenza Like Illness (ILI) activity throughout New Mexico for the specified time frame of the flu season. It features informative graphs and statistics that show in detail how many people have been effected in each region of the state.