Turquoise Lodge Hospital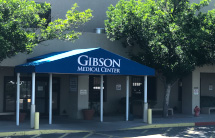 Turquoise Lodge Hospital (TLH) & Medical Observation Treatment Unit (MOTU) provides substance abuse treatment services to all New Mexico residents, including medical detoxification and rehabilitation services, in a hospital-based, intensive inpatient setting.
Priority patients for services include pregnant IV drug users and substance abusers, other injecting drug users and parents in the process of regaining custody of their children.
We also give priority for admission to patients who have a serious co-occurring medical or psychiatric illness.
---
Recent Activity
Featured
Latest
Popular
Latest
Popular
---
Table of Contents
---
About Us
Mission
To provide excellent quality health care and clinical treatment to individuals seeking the specialized services we provide. Leading with innovation; Serving with compassion. See the Turquoise Lodge Testimonials document to find out what patients and families are saying about us.
History
In 2007, Turquoise Lodge Hospital moved after 54 years from the southwest valley location to its current Albuquerque location at 5901 Zuni Road SE with 34 inpatient beds. In 2013, the hospital added 20 adolescent beds in order to serve the substance abuse needs of this population. Six additional adult beds were added to serve adult patients for a total of 40 adult beds and 20 adolescent beds.
Treatment
Our Clinical Team consists of professionally licensed Medical, Psychiatric, Nursing and Counseling staff. Our Professional staff has training and education in the field of addictions. Medical and Nursing care is provided 24 hours per day, seven days a week. The average length of stay depends on the level of care required, the drug of choice and the services you require. Typically, a stay is no longer than 30 days.
As you complete detoxification, you and your treatment team will determine your need for continuing into the hospital's rehabilitation program, which is approximately 21 days long.
Our Commitment to you during hospitalization is to:
Provide you with a safe and protective environment.
Help you to resolve your acute symptoms.
Assist you to stabilize the crisis situation, which brought you here.
Encourage your participation in a program with a community of peers.
Assist you to develop recovery skills in your continued effort to grow as an individual and to live your life substance free.
Ensure a Continuum of Change in a place for continued support and counseling after your discharge.
Disclaimer
Turquoise Lodge Hospital does not provide emergency medical services.
---
Adult Admissions
It is important to us to help you get treatment as soon as possible, and in the least restrictive environment. We are a hospital that provides medical detoxification and rehabilitation from substances that cause withdrawal symptoms. We also help individuals who expect to experience withdrawal but may also have the potential for additional medical or psychiatric complications.
Access to Treatment
Adults seeking voluntary treatment may contact admissions at 505-841-8978, then select option 4 to request information about our program. Intake staff will request information to start the assessment process to determine if you are eligible for admission to Turquoise Lodge Hospital.
Due to high-call volume, please allow up to three business days for a call-back from our admissions department to schedule a phone assessment. Patient confidentiality laws only allow us to speak with the person seeking treatment and obtain their personal information related to drug or alcohol use.
All information exchanged over the phone is confidential. After we complete your evaluation, our Medical Director will review your needs and determine if we are the best fit for your individual needs. You will receive a phone call from our Admissions Coordinator to let you know if you have been approved for admission and to schedule your admission.
Admission Criteria
You must be a New Mexico resident.
You must be age 18 or above.
You must be seeking treatment for alcohol/drugs addiction.
Preference to treatment is as follows: pregnant injecting drug users; pregnant substance abusers; injecting drug users; all others.
In addition to pregnant women, priority is given to parents with dependent children. Parents with dependent children include parents who are attempting to regain custody of their children.
We give priority for admission to individuals who have serious co-occurring medical or psychiatric illness.
You must read and agree to the Turquoise Lodge Hospital Patient Handbook upon admission.
You understand the following behaviors will not be tolerated, and may result in discharge:

Drug and/or alcohol use.
Engaging in intimate relationships.
Inappropriate threats or violence.
Documents
---
Adolescent Admissions

Currently Turquoise Lodge Hospital has availability on our 20-bed Adolescent Substance Abuse Unit. We offer medical detoxification, stabilization and rehabilitation services to New Mexico youth (14-18 years old) struggling with drug and alcohol substance abuse issues and co-occurring medical or psychiatric issues.
The average length of stay generally does not exceed 30 days. Treatment includes individual treatment planning, child psychiatric services, individual therapy, group therapy, experiential learning and discharge planning specific to the needs of the adolescent
We are currently accepting referrals from Core Service Agencies (CSA), Children, Youth and Families Department (CYFD), hospitals, schools, parents/guardians and adolescents looking for treatment.
All insurances are accepted, an income based sliding fee is available and Optum approval is not required at this time. Admissions are based on the American Society of Addiction Medicine (ASAM) criteria.
Assessment
To schedule an assessment, please call Turquoise Lodge Hospital Admissions department directly at 505-841-8978, option 5. You may also contact your local CSA and schedule an assessment through them. TLH intake staff will request information to start the assessment process to determine eligibility for admission to the adolescent program.
Before referring a patient to our facility, please see the Turquoise Lodge Basic Information for Referring Providers document.
CSA's may fax referrals to our referral fax number at 505-383-1189. Please be sure to include the following completed documents:
Adolescent Admissions Assessment Form
Financial Eligibility Form
Release of Information (for CSA, parent/guardian, and others as identified)
Chronological Offense History
Updated CSA Assessment/Collateral Clinical Documentation (if available)
---
Referring Providers
Turquoise Lodge Hospital is a chemical dependency specialty hospital for medical detoxification and rehabilitation, utilizing the ASAM Patient Placement Criteria. ASAM placement criteria is used to match an individual's severity or level of functioning with the intensity of treatment services needed in the least restrictive environment. Individuals seeking treatment are screened to determine the appropriate level of care. Individuals who meet criteria for detoxification have acute intoxication/withdrawal potential and a severity rating of biomedical and/or emotional/behavioral conditions and/or complications as determined by our Medical Director. All patients admitted to Turquoise Lodge Hospital receive medical and psychiatric evaluations.
Turquoise Lodge Hospital has the capacity to provide oxygen, IV fluids and medications and evaluation/stabilization for acute medical and psychiatric problems. You may contact the medical director Laura Allen at 505-841-8978 x198 for provider to provider consultation.
Patients admitted to the Detox Unit may be linked to continued counseling services in the community or may receive a recommendation for a continued inpatient stay in Turquoise Lodge's Rehabilitation Unit. Individuals who are recommended for a continued inpatient stay in the Rehabilitation Unit have been assessed by the Treatment Team. A recommendation for a continued inpatient stay is based on continued severity ratings of biomedical and/or emotional/behavioral conditions and/or complications and a severity rating in at least one of the following areas: Readiness to Change, Relapse/continued Use/Continued Problem Potential, or Recovery Environment. Individuals in our care need 24-hour medical and nursing care and clinical intervention. Our program is co-occurring enhanced, and services are provided by a highly trained team of professionals.
Before referring a patient to our facility, please see the Turquoise Lodge Basic Information for Referring Providers document.
---
Visiting Our Facility
Driving
Turquoise Lodge Hospital is located in Albuquerque on the corner of Valencia and Zuni Rd SE. Valencia is located three blocks east of San Mateo.
Parking
Parking is located on the west side of the building.
Building
The Central Intake entrance is located on the west side of the building.
Public Transportation
The City of Albuquerque has public transit system that is easily accessible. The Rapid Ride is accessible at San Mateo and Central. Please see the City of Albuquerque Bus Routes page for current bus schedules.
---
Frequently Asked Questions
Please see our Turquoise Lodge Frequently Asked Questions document for answers to the most common questions about TLH.
---
Other Addiction Treatment Providers & Programs
Organizations
Youth Advocacy Agencies
Crisis Hotlines
---
Facility Photographs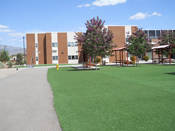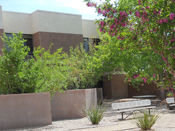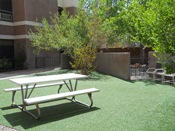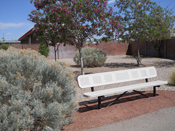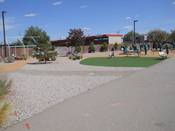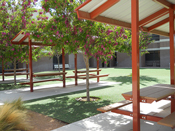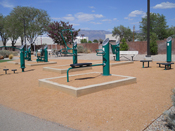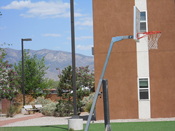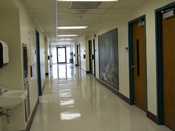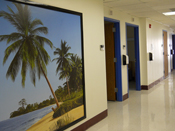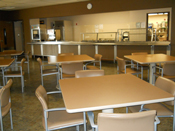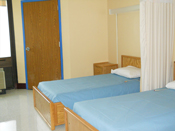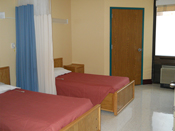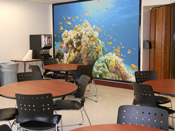 ---
Job Opportunities
Turquoise Lodge Hospital is part of the Department of Health, Facilities Division. Employment opportunities at TLH are posted by the State Personnel Office (SPO).
You can view the Job Opportunities at Turquoise Lodge Hospital on the SPO website today!