Presentations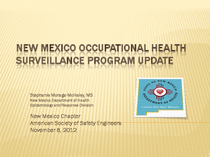 Occupational Health Surveillance Program Update 2012
Occupational Health Surveillance - Presentation
November 8, 2012
This presentation explains what the overall goal of the program is, what the reportable occupational conditions are, employment demographics, then provides data on injury and death rates.
---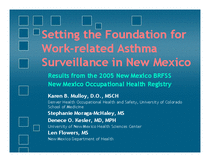 Setting the Foundation for Work-Related Asthma Surveillance in New Mexico
Occupational Health Surveillance - Presentation
August 26, 2009
This presentation explains the occupational asthma project goals, desired outcomes, what is known to date, the approach and objectives, explains what the BRFSS is, reviews statistical data regarding asthma in New Mexico, then states conclusions.
---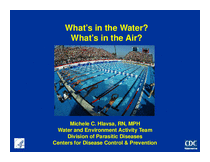 Healthy Swimming Presentation
Water Illness - Presentation
May 11, 2009
This presentation was created by the CDC and covers a wide range of topics including what recreational water illness is, diarrheal illness, fecal contamination of recreational water, and pool operation and maintenance. It also provides a number of supporting data graphs and charts.