Sequoyah Adolescent Treatment Center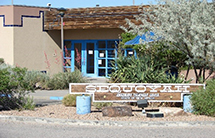 Sequoyah Adolescent Treatment Center (SATC) has been providing treatment services to adolescents since July 1, 1992 when the center was officially transferred from the New Mexico Youth Authority to the New Mexico Department of Health.
Historically, Sequoyah (originally called Secure Treatment Center) was conceived in July 1982, as a psychiatric hospital for adolescent clients who could not be treated in a traditional psychiatric facility because of their violence and resulting in disruption to the rest of the unit. Funds were appropriated to build the center in 1984, but did not include funding for staff. Thus, the Secure Treatment Center did not open until 1990 when the New Mexico Youth Authority used it as a nine-bed treatment center for juvenile delinquents.
Community needs, as expressed through the legislature, suggested the need to open the center to both adjudicated and non-adjudicated youth. As a result, the legislature formally transferred the center to the Department of Health, Division of Mental Heath, effected July 1, 1992. Admission standards were changed, treatment rather than incarceration became the primary purpose and the center was officially opened as Sequoyah Adolescent Treatment Center. In the ensuing years, it expanded from the original nine beds to full capacity with 36 beds.
---
Recent Activity
Latest
Latest
---
Mission Statement
The purpose of the Sequoyah Adolescent Treatment Center is to provide care and reintegration into society for adolescents who are violent or who have a history of violence, have a mental disorder, and who are amenable to treatment. The purpose is to also to provide a residential treatment program for adolescents with severe emotional disturbances for the purpose of developing skills necessary for successful transition into the community. Services are to be provided based upon a client's needs and integrated within the continuum of services offered throughout the state. Provision of services is consistent with the least restrictive means principle.
---
Admission Criteria
Students are admitted to Sequoyah only under the provisions of the New Mexico Children's Mental Health and Developmental Disabilities Code.
The adolescent must be violent or have a history of violence, have a mental disorder.
The adolescent must be between thirteen (13) and seventeen (17) years old at admisssion.
The adolescent must have the cognitive capacity to benefit from verbal therapies and milieu programming offered at Sequoyah.
Need for services is the primary consideration and services are offered without discrimination by reason of race, sexual preference, religion, or national origin.
Clients cannot be ordered here under criminal or delinquency codes and Sequoyah does not do court-ordered, forensic evaluations for competency.
The Adolescent has not benefited from a regular education setting and likely meets criteria for special education.
---
Referral Process
Sequoyah accepts referrals from any community source. Referral information should include:
Cover letter explaining why the adolescent was referred at this time
Information from previous treatment
School records to include IQ score
Chronological offense record
Bio-psychosocial assessments
Insurance information
Current location
Legal custodian
Legal status
If it appears the child meets admission criteria, he will be placed on a waiting list. A personal interview will then be scheduled with a clinician. The clinician presents the case to the evaluation committee which will either accept or make recommendations for alternate treatment.
Referral Source Information
When making a referral to Sequoyah, please include the following documents.
Psychological evaluation (including Forensic evaluations if done)
Chronological offense records
Judgment and disposition orders
Educational assessments (including transcripts, IEPs, psycho educational assessments, speech and language evaluations)
Medication information
JJD baseline assessments
Information from previous placements/hospitalizations
Medicaid or insurance information
Immunization record
A cover letter describing why this adolescent is being referred at this time
All referrals need to include the current location of the referee, custody, parents' address and phone number, name and phone number of the person making referral, JPPO name and number.
---
Services
Sequoyah is a twenty-four hour a day program, although normal working hours for the administrative staff are Monday-Friday from 8:00am-5:00pm.
Charges for services are the responsibility of the legal custodian. However, Sequoyah will bill Medicaid or other appropriate insurance with custodian involvement.
Sequoyah utilizes the multidisciplinary team approach to treatment in a culturally sensitive environment that addresses the individual needs of the resident. Contributions from education, milieu, nursing, psychiatry, psychology, recreation and social work, are integrated into an individualized treatment plan. The treatment plan is explained in terms the student and their families can understand and are reviewed every thirty days.
Services Offered
Individual, group and family therapies
Art therapy
Educational services
Medical services
Medication management
Neuropsychiatric services
Social services
Speech and language therapy
Therapeutic recreational activities
Contract Services
Dental
Non-denominational religious services
Nutritional planning
Pediatric
Pharmacy
Portable X-ray
EKG services
---
Neuropsychiatric Unit
Neuropsychiatric Lodges are designed for students whose cognitive impairments, in addition to their presenting mental health diagnosis, compromises their emotional, social, and behavioral functioning.
Adolescents referred to these services typically have one or more of the following:
Receptive and expressive language difficulties
History of traumatic brain injury
Problems with attention and concentration
Poor impulse control
Difficulty with decision making
Limited problem solving abilities
Delays in academic achievement
Serious lack of motivation
History of pre-natal drug exposure
The special needs of these students require a program that maintains a highly structured and controlled environment to compensate for such impairments. The Neuropsychiatric Lodges provide a treatment emphasis on positive aspects of behavior and pro-social development. Interventions focus on repetition, one- step directions, use of multi-sensory input, and the provision of a variety of in-person and visual environmental supports.
---
Accredited School
In addition to being licensed as a treatment center, SATC maintains an accredited state supported school.
Staffing
Director of Education
Four licensed teaching staff, representing both regular and special education.
Speech pathologist
Variety of contracted related service providers:

School psychologist
Bilingual evaluators
Occupational therapist
Librarian
Classroom
School is year round. (220 days)
There are 9 students per classroom.
Instruction is provided to meet individual needs.
Grades and transcripts are provided for each student.
Educational testing is performed as needed.
Earned credits transfer back to student's district school.
Special Education services:

Individual Education Plan (IEP)
Parents are invited and encouraged to participate in the development of their child's IEP. (surrogate services are also available)
---
Discharge & Aftercare
Discharge planning begins at the time of admission, with the needs of the students and the custodian being continually evaluated throughout the treatment period.
A dedicated case manager works closely with the treatment teams to determine aftercare needs for both resident and family.
Aftercare services are established prior to discharge.
Students are contacted 30 days following discharge to assist in the transition to the community.
Follow-up studies are conducted at six months following discharge.
---
Job Opportunities
Sequoyah Adolescent Treatment Center is part of the Department of Health, Facilities Division. Employment opportunities at Sequoyah are posted by the State Personnel Office (SPO).
You can view the Job Opportunities at Sequoyah Adolescent Treatment Center on the SPO website today!
Positions that may be available include:
Social workers
Registered nurses
Psychologists
Maintenance staff
Teachers
Secretaries
Custodial staff
Therapists
Psychiatrists
Psychiatric technicians and supervisors