Plans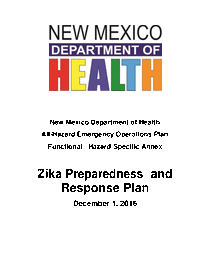 Zika Preparedness and Response Plan
Zoonotic Diseases - Plan
July 29, 2016
This plan incorporates guidance from the U.S. Department of Health and Human Services, Centers for Disease Control and Prevention, Office of the Assistant Secretary for Preparedness and Response, U.S. Department of Homeland Security and Federal Emergency Management Agency. lt also builds on lessons learned from planned events, disasters, emergencies, trainings, and exercises.
---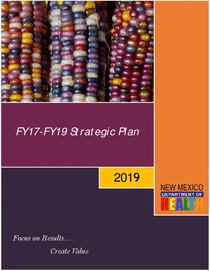 Strategic Plan 2017-2019
Accreditation - Plan
July 27, 2016
This document is a tool that will be used to establish priorities, align resources, improve and strengthen operations, and ensure that all staff understand the Department's goals and recognize how then can contribute to achieving them. This plan is intended to communicate the Department's commitment to improving health outcomes across every part and sub-part of the population.
---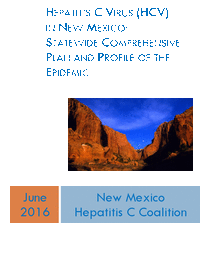 Hepatitis C Virus in New Mexico: Statewide Comprehensive Plan and Profile of the Epidemic 2016
Hepatitis Prevention - Plan
July 22, 2016
This plan was developed through a participatory process during 2015 – 2016 facilitated by the New Mexico Hepatitis C Coalition. The Coalition is a collaborative body with diverse membership that strives to ensure representation of various experts from all areas of New Mexico.