Epidemiology & Response Division
Tracks infectious diseases, injury and health statistics, trains organizations in disease control, injury prevention, responds to public health emergencies and provides vital records services. We also issue 228,000 birth and death certificates and register 28,000 births and 14,000 deaths each year.
---
Presentation Services
We offer in-person-on-site presentation services to community organizations and groups interested in health data. Our content experts and professionals can tailor presentations for a wide range of audiences. Please visit our Presentation Services page to learn more.
---
Health Status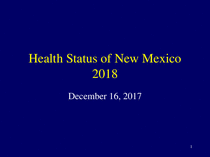 The New Mexico Health Status 2017 highlights the health status in New Mexico for 2017 including risk and resiliency, morbidity, birth, death, trends, and disparities.
---
New Mexico Epidemiology Reports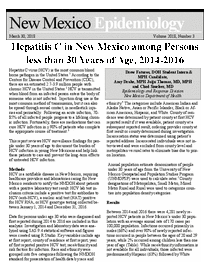 View All New Mexico Epidemiology Reports »
---
New Mexico Epidemiology Briefs
View All Epidemiology Briefs »
---
How New Mexico Compares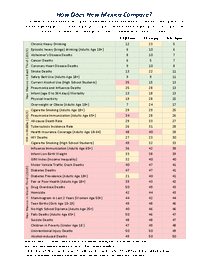 This report lists selected state health measures showing New Mexico's ranking where 1 is the best ranking and 50 is the worst among all 50 United States. Highlights of the report include low levels of adult chronic drinking and binge drinking, low rates for four leading causes of death. The state also experiences high levels of alcohol-induced deaths; unintentional injury deaths.
---
Health Data
Featured
Latest
Popular
---
Publications
Featured
Latest
Popular
---
Resources
Featured
Latest
Popular