Epidemiology & Response Division
Tracks infectious diseases, injury and health statistics, trains organizations in disease control, injury prevention, responds to public health emergencies and provides vital records services. We also issue 228,000 birth and death certificates and register 28,000 births and 14,000 deaths each year.
---
New Mexico Epidemiology Reports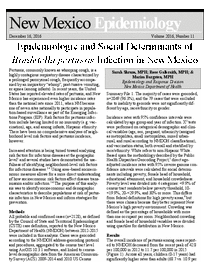 View All New Mexico Epidemiology Reports »
---
New Mexico Epidemiology Briefs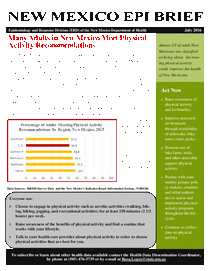 View All Epidemiology Briefs »
---
Upcoming Events
Doña Ana
2800 Sonoma Ranch Blvd, Las Cruces, NM 88011
575-528-7250 Phone
The American Lung Association in New Mexico is sponsoring the Fifth Annual "Implementation and Interpretation of Spirometry in the Primary Care Practice," at Dona Ana Community College in Las Cruces New Mexico. This workshop prepares those who coach patients through a spirometry test (Medical Assistants, respiratory therapists, and nurses) and those who interpret spirometry tests (nurse practitioners, physician's assistants, and physicians). The instructor, Ed Corazalla, is a physiologist and head of the pulmonary function lab at the University of Minnesota, and is an American Thoracic Society certified trainer. Ed is a gifted instructor at taking beginners through a complex subject.
REGISTRATION REQUIRED: You must Register Now if you plan to attend this event.
---
Health Data
Featured
Latest
Popular
---
Publications
Featured
Latest
Popular
---
Resources
Featured
Latest
Popular