Epidemiology & Response Division
Tracks infectious diseases, injury and health statistics, trains organizations in disease control, injury prevention, responds to public health emergencies and provides vital records services. We also issue 228,000 birth and death certificates and register 28,000 births and 14,000 deaths each year.
---
Presentation Services
We offer in-person-on-site presentation services to community organizations and groups interested in health data. Our content experts and professionals can tailor presentations for a wide range of audiences. Please visit our Presentation Services page to learn more.
---
New Mexico Epidemiology Reports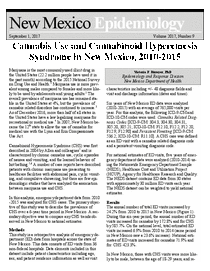 View All New Mexico Epidemiology Reports »
---
New Mexico Epidemiology Briefs
View All Epidemiology Briefs »
---
How New Mexico Compares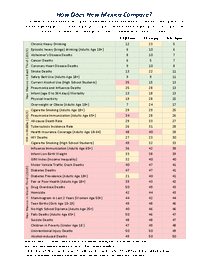 This report lists selected state health measures showing New Mexico's ranking where 1 is the best ranking and 50 is the worst among all 50 United States. Highlights of the report include low levels of adult chronic drinking and binge drinking, low rates for four leading causes of death. The state also experiences high levels of alcohol-induced deaths; unintentional injury deaths.
---
Upcoming Events
The New Mexico Department of Health will hold a public hearing in the Runnels auditorium (Room A-1006) on the proposed repeal and replacement of certain rules of the Emergency Medical Systems Bureau of the Epidemiology and Response Division. These rule changes are proposed pursuant to Sections 24-10B-4 and Subparagraph (e) of 9-7-6 NMSA 1978.
The meeting will be held in Hearing Room 1. The advisory committee will review and make recommendations for reports that will address public concerns regarding health information and access to health care, recommendations on how to present health information to a general audience, the best methods for effective dissemination of health information reports, and advise the Department of Health in carrying out the provisions of the HIS act.
The meeting will be on the first floor in the auditorium. This hearing will be conducted to receive public comment regarding the proposed adoption of a new rule concerning the requirements of a public access website that will host health care cost and quality data. The website will assist in carrying out some of the requirements of the Health Information System Act, an act that was created to assist in the collection, analysis, and dissemination of health information to New Mexico residents.
---
Health Data
Featured
Latest
Popular
---
Publications
Featured
Latest
Popular
---
Resources
Featured
Latest
Popular