Family Planning Program

Low or no cost clinical services are provided in public health offices statewide, and some community and school-based health centers. Clinical services include birth control, counseling, and laboratory tests.
The Family Planning Program also supports evidence-based teen pregnancy prevention programs, including service learning and positive youth development programs, adult-teen communication programs and comprehensive sex education.
---
Overview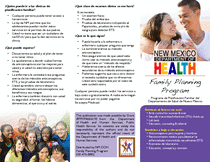 What are the goals of the family planning program?
Reduce teen births.
Reduce unintended pregnancy.
Reduce chlamydia infection that may cause infertility in young women.
Who can go to family planning clinics?
Anyone may request services.
New Mexico state law allows teens to receive these services without parent's permission.
You do not have to be a US citizen to get clinic services.
---
Learn More
Please take a moment to visit these pages for more information about what we have to offer:
You may also enjoy navigating to our Publications, Health Data, and Resources pages for even more information about family planning.
The clinic locator to the right allows you to search by city/state or zip code to find family planning services near you that offers low-cost or no-cost birth control options. If you can't find a clinic, or can't find the answer to your question, call 505-476-8882.
---
Recent Activity
Latest
Popular
Latest