Health Facility Licensing
Health Facility Licensing & Certification (HFLC) is now health facilities and is composed of two bureaus, the Program Operations Bureau and the District Operations Bureau. These two bureaus are responsible for the licensing and certifying of all health facilities in New Mexico.
Together the two bureaus are responsible for establishing, monitoring and enforcing quality standards for over 3500 health facilities and laboratories to assure the health, safety, and wellbeing of residents/patients/clients.
Developing policy and collaborating with providers, consumers, regulatory agencies, state and local ombudsmen, federal, state and local policymakers, and professional associations to assure that quality standards are met. Assuring that the public receives the type of care that promotes their quality of life, their dignity, and their autonomy.
---
Featured Topics
Some of the most frequently accessed topics in this section are listed below.
---
State Operations Manual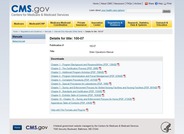 The Social Security Act mandates the establishment of minimum health and safety and Clinical Laboratory Improvement Act standards that must be met by providers and suppliers participating in the Medicare and Medicaid programs. The Secretary of the Department of Health and Human Services has designated Centers for Medicare and Medicaid Services to administer the standards compliance aspects of these programs.
Please read the Medicare & Medicaid Services State Operations Manual for complete details.
---
Regulations
Please visit the Regulations page for a complete listing of the rules and regulations which govern the majority of what we do.
---
Quick Links
Licensed Health Facilities
Search Licensed Health Facilities Survey Report of Findings