Office of the Secretary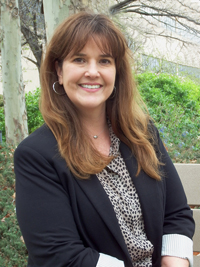 "Like the late Secretary, I am dedicated to achieving the goals we have set to improve population health and make New Mexico a healthier place."
— Cabinet Secretary Lynn Gallagher
Governor Susana Martinez announced her appointment of Lynn Gallagher as Secretary for the New Mexico Department of Health in April of 2016. Gallagher's appointment follows the passing of Secretary Retta Ward in March.
"Much like Retta Ward before her, Lynn is a dedicated public servant who demonstrates strong leadership and dedication to improving the health of New Mexicans," Governor Martinez said. "Lynn is passionate about making New Mexico a better and healthier place, and I am confident in her abilities to lead our largest state agency."
Gallagher served as Deputy Secretary of the Department of Health since 2013. Prior to that, she served as General Counsel for the Aging and Long-Term Services Department.
Among the many public health priorities, Secretary Gallagher is committed to working to prevent and treat substance abuse, strengthen vaccination rates statewide, and continue to improve health outcomes throughout New Mexico by strengthening community partnerships and their engagement in health initiatives. The Department continues to make important strides in improving public health in New Mexico.
For example, childhood vaccination coverage in New Mexico reached an all-time high in 2014, childhood obesity has dropped over the past five years in both kindergartners and third graders, and New Mexico saw a 57 percent decrease in birthrates among teens ages 15 to 17 between 2000 and 2014.
Prior to her career in public service, Gallagher lived in New York City, working for US Bank in the wealth management, corporate and municipal bond market fields. She also worked for the Home Shopping Network in Florida, providing state and federal compliance and contract management. She returned to New Mexico in 2009 where she entered private practice for a short time.
Gallagher was born and raised in Truth or Consequences. She holds a Bachelor of Arts in Political Science from the State University of New York at Stony Brook and a Juris Doctor from Nova Southeastern University in Fort Lauderdale, Florida.