New Mexico Behavioral Health Institute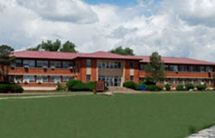 The New Mexico Behavioral Health Institute (NMBHI) is the only state owned and operated psychiatric hospital in New Mexico. NMBHI is made up of five clinical divisions serving a wide range of public needs. Each division is separately licensed and has its own unique admission criteria.
The most familiar is the inpatient care we offer adult psychiatric patients. We provide adult psychiatric services on six units, serving approximately 1000 admissions per year.
---
Recent Activity
Latest
Latest
Latest
---
Table of Contents
---
Overview
Our adolescent program is dedicated to treating adolescent sex offenders.
Our forensic division offers competency evaluation and treatment for adult patients who have allegedly committed a felony. We also provide treatment for adult sex offenders.
NMBHI is a major regional licensed long-term nursing care provider for elderly and disabled residents. It is Center for Medicare & Medicaid Services certified, accredited by The Joint Commission (TJC) and provides specialty services for dementia care in both elderly and younger residents.
Outreach services are gaining a whole new meaning at NMBHI with the advent of telemedicine. With this technology we are able to assess patients who are in other parts of the state or provide consultation to health care providers in those regions.
In addition, NMBHI offers community based services through a comprehensive community metal health agency that offers many individual programs.
---
Adult Psychiatric Division
The New Mexico Behavioral Health Institute-Adult Psychiatric Division provides court-ordered and voluntary treatment to individuals suffering from a mental health illness, which has severely impaired their functioning, and their ability to be maintained in the community. It is the most restrictive psychiatric setting in New Mexico.
Family, significant others, and surrogate decision makers are encouraged to and are welcomed participants in the assessment and treatment planning process. Treatment goals and objectives are established collaboratively and inclusive of the patient and their perspective.
Effective treatment includes discussion about aftercare at the onset of each phase of treatment. NMBHI's Adult Psychiatric Division begins its discussion of discharge planning during the admission interview. This practice supports NMBHI's philosophy that residential psychiatric treatment is transitional not terminal and is recovery-oriented. The treatment team members utilize best practice models in the delivery of care and of services.
Who Provides the Inpatient Care?
The inpatient treatment team will be responsible for each patient's individual needs and for the overall unit-specific treatment milieu. This inpatient treatment team is made up of staff from the following disciplines: Psychiatry, Nursing, Social Work, Rehabilitation Therapy Services, and Psychology. Other departments, such as Medicine and Nutrition Services are also actively working with each patient in the hospital.
An extensive admission interview occurs with the evaluating clinician and the preliminary clinical information is used to complete the initial treatment plan. Other team members complete a discipline-specific assessment within 72 hours and these assessments are then utilized in developing a master treatment plan with the participation of the patient within 14 days from the date of admission. This time period allows the team to become more familiar with the patient's particular strengths and individual treatment needs while identifying discharge criteria that will continue to be assessed throughout the course of treatment.
The Psychiatrist is responsible for leading the treatment team, and identifies the interventions needed to address the patient's psychiatric needs and concerns. The psychiatrist and family practice physician complete an initial assessment, prescribe medication, other tests or treatment that need to be performed and review the individual's progress in meeting treatment goals.
Nursing staff will monitor the status of the patient and coordinate treatment interventions to ensure that care is provided. They maintain responsibility for a safe and therapeutic environment, supporting, supervising, and teaching patients self-care, providing individual and group treatment, medication education and administration as well as implementing physician orders. Nursing staff help patients process their moods and feelings, and communicate the progress of the patient to the rest of the team.
The Psychologist has the responsibility for facilitating the clinical discussion and formulation of the treatment plan. The psychologist is responsible for providing individual or group therapy to address common issues that are experienced by patients with mental illness. For example, the development of coping, communication and social skills, anger management and substance abuse education are some of the more common areas covered in therapeutic groups. Psychologists perform evaluations to help clarify a diagnosis or assist in determining the treatment approach that should be used. Psychology staff may develop the individualized behavior management plans and provide necessary training to the treatment team.
The Social Worker on the unit is responsible for assuring that all family members and significant community service providers are notified of treatment team staffings, and encourage their input into the treatment/discharge plan. Family and community service providers are strongly encouraged to maintain their involvement with the patient throughout their stay in the hospital, since they are the primary link to a successful discharge. The Social Worker is charged with planning and coordinating the return of the patient to the community following discharge (discharge planning). Some of the services they work to coordinate include: case management and medication, medical care, housing, and other benefits.
The Treatment Plan Coordinators serve as a consultant to the multidisciplinary treatment teams and ensure that the treatment plans developed by the treatment teams meet all standards and specifically address the behaviors which admitted the patient to the most restrictive level of psychiatric care. They assist in the timely review of treatment plans and updating the treatment process for the identification of medical necessity for continued psychiatric care. They assist the team psychologist in the development of behavior management plans and assist with staff training if deemed necessary.
Rehabilitation Services are provided by Recreational Therapists. Rehabilitation staff assist patients in learning the community living skills needed to assist them in successful community reintegration. These services focus primarily on home management, use of leisure time, fitness, and social skill development. Opportunities are provided to apply skills learned in day-to-day activities (e.g. walks, dances, art and music, exercise, etc).
The hospital Patient Advocate is available to speak with the patient and/or interested parties throughout the course of the hospitalization. The patient advocate will assist in bridging communication between the patient and treatment team and will provide mediation in an attempt to resolve communication and or treatment issues or concerns. The Patient Advocate is available to the patient and next of kin through discharge. At the time of discharge the Patient Advocate can assist the patient and if the patient so desires in completing a satisfaction survey. The completion of such survey is optional and is not a requirement for discharge. The survey is sent directly to NMBHI's Standards and Compliance Division and the feedback affords NMBHI Adult Psychiatric Division Management Team in identifying opportunities for improvement.
What happens after the hospitalization?
The planning for the discharge of the patient begins at the time of admission by identifying family and community resources, which will be available to support the patient's transition back into the community, once the illness is stabilized. Throughout the patient's stay all efforts will be made to keep family and community involvement active. For those patients who do not have the family or community supports, the treatment team will work with community agencies to assure those supports are in place during the patients hospitalization and, in particular, at the time of discharge. At times the community supports necessary are non-existent in the community of origin, it is in those instances that the treatment team will work with the patient in obtaining the most appropriate and available local supports.
NMBHI Adult Psychiatric Division will continue be a support to the patient — even post-discharge. The patient and/or support network may elicit consultation with the treatment team or other professional staff at any time. We will be here to assist with advocacy, linkage and support as patients integrate into their community.
---
Adolescent Services Center for Adolescent Relationship Exploration

The Center for Adolescent Relationship Exploration (CARE) unit at the New Mexico Behavioral Health Institute is a residential treatment center specializing in sexual offender treatment for male adolescents who are aged 13-18 and suffer from major mental illness. CARE has treated these adolescents in a specifically designed program since 1985, and redefined its program in 1995 so that now it is exclusively dedicated to such treatment. It is the only program in New Mexico, which specializes in the treatment of this population with nationally certified juvenile sex offender counselors directing the specific treatment.
The facility is licensed as a specialty Residential Treatment Center (RTC) for 20-beds by the state of New Mexico and is accredited by the Joint Commission on Accreditation of Health Care Organizations.
The program provides a safe predictable, organized, and supportive environment, which is essential in treatment. Our goal is to support the adolescent perpetrator in changing from a lifestyle of abusive behavior, and we use as our model Alan Jenken's Invitation to Responsibility. We accomplish our goal through a variety of treatment interventions including:
Milieu Therapy
Family Therapy
Individual Therapy
Education
Vocational Therapy
Psychopharmacological Therapy
Group Therapies
Wilderness Experiential Therapy
Activity Therapy
Typically, adolescents referred to CARE are from diverse socioeconomic and cultural environments. They have attempted to cope with their problems through aggressive and violent means using sex and abuse as their primary weapons. Characteristics of this population include many who have victimized, are not living at home with their family at the time of admission, and have been involved in an intensive treatment program prior to admission. Additional descriptors of these adolescents include histories of gang involvement, family relationship problems, impulsive behaviors, use and abuse of drugs and/or alcohol, fire setting, running away, stealing, truancy, and engaging in other assaultive or self-destructive behaviors.
Please contact Jeffrey Koenigsberg at 505-454-2259 for referrals and additional information.
---
Community Based Services
The goal of the New Mexico Behavioral Health Institute Community Based Services is to provide the highest quality of services in an outpatient setting in a four-county area. The services include Mental Health, Outpatient services, Residential services for the Chronically Mentally Ill, Restorative Services, Case Management for Developmental Disabilities and Disabled and Elderly Waiver and Foster Grandparents.
Mental Health Services
The Mental Health Component provides an individualized, assertive and comprehensive community based treatment. The focus is on rehabilitation and improving the quality of life to adults, adolescents, children and families in need of Mental Health Services. Psychiatry services provide diagnosis and medication treatment. Nursing services are offered as well as individual and group therapy and psychological testing. Case Management provides advocacy and linkage to access and use community resources. Psychosocial Rehabilitation emphasizing the development of daily living skills is provided daily and includes supportive employment. Crisis Response is available 24 hours a day seven days a week. Sexual Assault Services provides a comprehensive array of advocacy and therapy services to victims. Residential Services focuses on providing a highly structured, therapeutic milieu intended to increase independence in the living environment of their choice. Substance Abuse Counseling provides individual counseling with an emphasis on education on the addictive process. Education and Information Services are available for presentations and workshops upon request.
Outpatient Restorative Services
Outpatient Restorative Services offers expertly trained therapists that are knowledgeable in their field. Treatment is available to all ages from pediatrics to geriatrics. Services offered are: Physical Therapy, Occupational Therapy, and Speech Therapy, and Audiology.
Case Management for the Developmental Disabilities and Disabled and Elderly Waiver
Case Management assists individuals in achieving the highest level of self-sufficiency and quality of life in a health environment, through accessing appropriate services and support in the community from disabled individuals.
Foster Grandparent and Senior Companions Program
The Foster Grandparent Program provides opportunities for Low-income persons 60 years or over to extend supportive services in Health, Education And Welfare settings to children having special or exceptional needs.
Senior Companion Program provides opportunities for Low-income persons age 60 or over to extend supportive services in Health, Education, and Welfare settings to homebound seniors having special or exceptional needs.
Locations
We currently have Community Based Services offices in the following locations.
Las Vegas
700 Friedman Avenue
Las Vegas, NM 87701
505-454-5100 (Phone)
505-425-1048 (Alternate)
505-454-5172 (Fax)
Mora
Highway 518
Mora, NM 87732
575-387-2677 (Phone)
575-387-2678 (Fax)
Santa Rosa
801 Fourth Street
Santa Rosa, NM 88435
575-472-3068 (Phone)
505-472-3768 (Alternate)
575-472-3768 (Fax)
Pecos
HC 74, Box 310
Pecos, NM 87552
505-757-6112 (Phone)
505-757-6113 (Fax)
---
Forensic Division
The Forensic Division of the New Mexico Behavioral Health Institute consists of three distinct units, which serve different purposes.
The Forensic Treatment Unit
Consistent with statutory mandates at NMSA, 1978 Section 31-9-1 through 31-9-1.6 the New Mexico Behavioral Health Institute (NMBHI) provides a Forensic Treatment Unit (FTU) which consists of 72 licensed beds located in four residential units consisting of the maximum security unit, the acute care unit, the continuing care unit, and the women's unit. All patients admitted to FTU are facing felony level charges, are court ordered by New Mexico state district courts, and have been found not competent to stand trial, and criminally dangerous. They come to NMBHI for competency restoration. Patients are initially committed to FTU for a 9-month period for treatment aimed at restoration of trial competency.
Sex Offender Treatment Program
The Sex Offender Treatment Program (STOP) consists of 8 licensed beds. Patients on this unit are not pre-trial, but have been convicted of offenses involving the sexual molestation of minors. They are court ordered to the program as a condition of probation or parole. The average length of stay in this program is approximately 6 months. The STOP program seeks to provide specialized treatment aimed at helping clients to better understand themselves and their behavior and to provide tools and coping mechanisms to significantly reduce the likelihood of reoffending. The STOP Program serves society by taking every possible step to ensure that clients will not victimize others but will be enabled to return to a productive role in their community.
All programs of the forensic division are staffed by fully competent treatment staff including psychologists, psychiatrists, primary care physicians, social workers, nursing staff, and psychosocial rehabilitation personnel. A full range of treatment modalities including individual and occupational therapy are available. The physical environment is comparable to other areas of the hospital and consists of dormitory wings with patient rooms, large day room areas, dining areas, and occupational therapy areas. The forensic division differs from other areas of NMBHI only in that outdoor areas of FTU and STOP Program are contained within a high perimeter fence for the purpose of maintaining security.
---
Long Term Care Services Division
Culture Change
Culture change (also known as person-centered care or resident-directed care) transforms the long-term care medical model to one that nurtures the human spirit, as well as meeting medical needs. Culture change is a work in progress, always evolving to meet the needs of the residents.
Goals of Culture Change
Restore control over daily living to residents of long-term care facilities, respecting the right of residents to make their own decisions.
Involve all levels of staff in the care process, honoring those who work most closely with residents.
Include families and friends in a comprehensive team-building approach to care.
Provide a familiar and hospitable environment, a supportive workplace and responsive, individualized care practices that focus on the needs and preferences of people, rather than those of the facility.
Resident Benefits
Reduces loneliness, helplessness and boredom, improves physical and mental health (e.g. reduces depression and behavioral problems); reduces unanticipated weight loss, reduces mortality, etc.
Staffing Benefits
Reduces employee turnover, eliminates temporary agency staffing and mandatory overtime, reduces worker's compensations claims, costs, etc.
Additional Benefits
Significantly improves employee, resident and family satisfaction; increases involvement with the outside community including children, students, clubs, and religious organizations.
Meadows Home
This is a long-term care community consisting of three neighborhoods – Evergreen, Aspen and Juniper, and is located on the campus of the New Mexico Behavioral Health Institute. Each neighborhood is home to 36 people. Our community is licensed by the New Mexico Department of Health for 176 beds and is dually-certified for Medicare and Medicaid by the Centers for Medicare and Medicaide Services as a skilled nursing facility. We are accredited by the TJC and certified as a restraint-free facility.
Sunrise Village at Ponderosa
This community provides a secure home for people who are living with Alzheimer's and other dementia diagnoses. The capacity at Ponderosa is 50.
Services
24-hour Nursing
Activity Therapy
Medicine
Pharmacy
Social Services
Psychology
Occupational Therapy
Housekeeping
Laundry
Podiatry
Restorative Nursing
Beauty/Barber Shop
Effective January 1, 2015 NMBHI became a tobacco-free campus. After October 1, 2014, everyone moving into the Meadows and Ponderosa neighborhoods will not use tobacco.
Learn More
Please contact our admissions coordinator Mary Lucero at 505-454-2409 for more information.
---
Directions
You will find customized driving directions to New Mexico Behavioral Health Institute from many of the most common locations below. Please call us with any questions you may have!
Traveling from the Albuquerque International Airport
Exit the airport area turn Left onto Yale Avenue. Travel on Yale Avenue for approximately 1 mile to Interstate-25. Take Interstate-25 North to Las Vegas (Approximately 125 miles). For continued directions, see driving directions North from Santa Fe.
Traveling North from Santa Fe
Travel North on Interstate-25, approximately 65 miles, to the first Las Vegas Exit #343. Turn Left from the off-ramp onto Grand Ave. Follow Grand Avenue for approximately 0.25 miles. You will see a red caboose on the left-hand side of the road, which serves as the Las Vegas Welcome Center. Turn Left at the caboose onto New Mexico Avenue. Stay on New Mexico Avenue for approximately 2 miles. At the first traffic light, turn Left onto Hot Springs Blvd. Follow Hot Springs Blvd for approximately 1.5 miles to the New Mexico Behavioral Health Institute.
Traveling South from Springer
Travel South on Interstate-25, approximately 70 miles, to the first Las Vegas Exit #347. Merge onto Grand Avenue. Travel on Grand Avenue for approximately 1.5 miles to the first traffic light. Turn Right at the light onto Mills Ave. Travel on Mills Avenue for approximately 3 miles through two traffic lights. At the third traffic light, turn right onto Hot Springs Blvd. Follow Hot Springs Blvd for approximately 1.5 miles to the New Mexico Behavioral Health Institute.
The New Mexico Behavioral Health Institute Campus
The Sandia Building is located on the left-hand side of the road, near the campus flagpole and Historical Marker. Many of the Administrative Offices are located within this building, where you may also get directions to other areas of the campus. Parking is available on the right-hand side of the road, across from the Sandia Building.
---
Visitor Information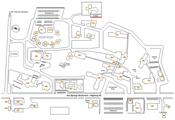 For detailed information, take a look at the Visiting Regulations for New Mexico Behavioral Health Institute publication. It provides specific visiting policies for all divisions of NMBHI.
The facility map on the right provides an overhead diagram of the entire facility grounds and a legend of locations to help you find where you need to during your visit.
Please contact the facility directly at the 505-454-2100 main number, or toll-free at 800-446-5970 if you need further information or have any questions at all.