Healthcare Providers & Practitioners
For the purpose of this program, Practitioners are identified as medical personnel licensed in New Mexico to prescribe and administer drugs that are subject to the Controlled Substance Act. A number of qualifying conditions also require the documented support of a provider or specialist with expertise in the particular condition. The doctor/patient relationship is valued by the Medical Cannabis Program and critical to maintaining the confidence and trust in the program.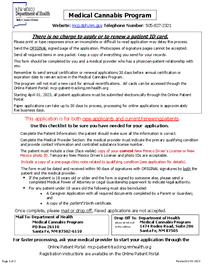 When your patient is applying to the MCP, Please fill out the Medical Certification Form included in the Medical Cannabis Patient Application packet. It is important that all sections of the Medical Certification Form be completed with as much detail as possible. Please provide any medical records that support the diagnosis including, but not limited to; date of appointment(s), evaluations or tests used to determine the diagnosis, past treatments why you believe the patient qualifies for the MCP.
NOTE: We ask that you sign your name in Blue ink as we require original documents. This will also help up protect you from attempts to misuse the Certification and your professional licensure.
---
Qualifying Conditions
There are currently 21 qualifying conditions. They are:
Cancer
Glaucoma
Multiple Sclerosis
Epilepsy/Seizure Disorder
Spinal Cord Damage with Intractable Spasticity
HIV/AIDS
Painful peripheral neuropathy
Intractable nausea/vomiting
Severe anorexia/cachexia
Hepatitis C infection currently receiving antiviral treatment
Crohn's disease
Post-Traumatic Stress Disorder
Amyotrophic Lateral Sclerosis
Severe Chronic Pain
Hospice Care
Inflammatory autoimmune-mediated arthritis
Cervical dystonia
Parkinson's disease
Huntington's disease
Ulcerative colitis
Inclusion Body Myositis
If your patient does not have a qualifying condition and you feel they would benefit from the medical use of cannabis, that person can petition the Medical Advisory Board to add their condition to the current list. For additional information on Petition Requirements go to the box to the right. You can also review the Medical Advisory Board link under Rules and Regulations in the box above for Rule specific details.