Influenza Vaccinations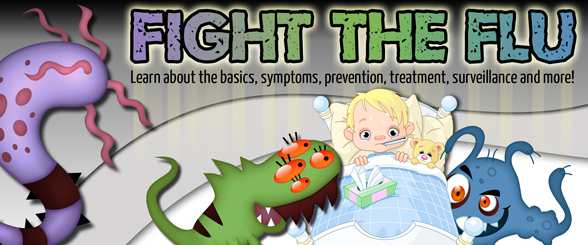 Table of Contents
---
Basics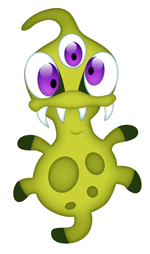 Getting the flu feels awful. Sometimes it can even be dangerous and lead to severe illness and complications, including death. The best way to prevent the flu is by getting a flu vaccination each year.
Here's what you need to do to fight the flu anywhere you go:
What is flu and what are the symptoms?
Flu is a contagious respiratory illness caused by influenza viruses. There are two main types of influenza (flu) virus: Types A and B. The influenza A and B viruses that routinely spread in people (human influenza viruses) are responsible for seasonal flu epidemics each year.
Symptoms include:
Fever (usually high, but not everyone with flu will have a fever)
Headache
Extreme tiredness
Dry cough
Sore throat
Runny or stuffy nose
Muscle aches
Stomach symptoms (such as nausea, vomiting, and diarrhea, can also happen, but are more common in children than adults)
How is it different from a cold?
The flu and the common cold are both respiratory illnesses but they are caused by different viruses. The symptoms are very similar, but generally, the flu is worse than the common cold, and symptoms with the flu are more intense. People with colds are more likely to have a runny or stuffy nose. Colds generally do not result in serious health problems, such as pneumonia, bacterial infections, or hospitalizations.
Because people with colds and flu have many of the same symptoms, it can be difficult (or even impossible) to tell the difference between a cold and the flu based on symptoms alone. Special tests that usually must be done within the first few days of illness can be carried out, when needed, to tell if a person has the flu.
Who is most at risk for getting very sick from flu?
People age 65 and older
Young children, especially those under 2 years old
Pregnant women
People with chronic health conditions such as asthma, diabetes, and heart disease
American Indian and Alaska Natives
Although these groups are at the highest risk, anyone can become very sick with flu.
What are the complications from the flu?

Most people who get influenza will recover in a few days to less than two weeks, but some people will develop complications (such as pneumonia) as a result of the flu, some of which can be life-threatening and result in death.
Pneumonia, bronchitis, sinus and ear infections are examples of complications from flu. The flu can make chronic health problems worse.
For example, people with asthma may experience more frequent and worse asthma attacks while they have the flu, and people with chronic congestive heart failure may experience worsening of this condition that is triggered by the flu.
How does the flu spread?
Person to Person
People with flu can spread it to others up to about 6 feet away. Most experts think that flu viruses are spread mainly by droplets made when people with flu cough, sneeze, or talk. These droplets can land in the mouths or noses of people who are nearby or possibly be inhaled into the lungs. Less often, a person might also get flu by touching a surface or object that has flu virus on it and then touching their own mouth or nose.
To avoid this, people should stay away from sick people and stay home if sick. It is also important to wash hands often with soap and water. If soap and water are not available, use an alcohol-based hand rub if hands are not visibly soiled. Linens, eating utensils, and dishes belonging to those who are sick should not be shared without washing thoroughly first. Eating utensils can be washed either in a dishwasher or by hand with water and soap and do not need to be cleaned separately. Further, frequently touched surfaces should be cleaned and disinfected at home, work and school, especially if someone is ill.
The Flu is Contagious
Most healthy adults may be able to infect other people beginning one day before symptoms develop and up to five to seven days after becoming sick. Children may pass along the virus for longer than seven days. Symptoms start one to four days after the virus enters the body. That means that you may be able to pass on the flu to someone else before you know you are sick, as well as while you are sick. Some people can be infected with the flu virus but have no symptoms. During this time, those persons may still spread the virus to others.
---
Prevention
Vaccination
Why should I get a flu shot?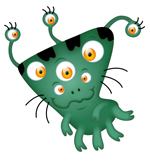 Flu can strike the healthiest of people and make them very sick. Everyone six months of age and older should get flu vaccine every year. While there are many different flu viruses, the seasonal flu vaccine is designed to protect against the top three or four flu viruses that research indicates will cause the most illness during the flu season.
Getting a flu shot (or nasal spray) helps protect you from getting the flu and prevents you from passing it to people who could get very sick. Vaccinating not only protects ourselves, but also protects the people around us.
Since it takes about two weeks after vaccination for antibodies to develop in the body to protect against influenza virus infection, it's best to get vaccinated so you are protected before the flu begins spreading in your community.
When should I get a flu shot?
For best protection, flu vaccine is usually given in late summer or early fall before flu season starts. People should begin getting vaccinated soon after flu vaccine becomes available, ideally by October, to ensure that as many people as possible are protected before flu season begins. However, you can get the vaccine anytime during flu season; which typically occurs sometime between October through April.
Who shouldn't get a flu shot?
According to the national Centers for Disease Control and Prevention (CDC), flu vaccine is not approved for children younger than 6 months of age.
People who have had a severe allergic reaction to flu vaccine or any of its components should generally not be vaccinated.
Some people should not get a flu vaccine without first consulting their doctor.
These people include:
People who have a moderate-to-severe illness with or without a fever (they should wait until they recover to get vaccinated), and
People with a history of Guillain–Barré Syndrome (a severe paralytic illness) that occurred after receiving influenza vaccine and who are not at risk for severe illness from influenza should generally not receive vaccine. Tell your doctor if you ever had Guillain-Barré Syndrome. Your doctor will help you decide whether the vaccine is recommended for you.
Also, people who have ever had a severe allergic reaction to eggs may be advised not to get vaccinated. People who have had a mild reaction to eggs—that is, one which only involved hives—may receive a flu shot with additional precautions. Make sure your doctor or health care professional knows about any allergic reactions.
Is the vaccine safe?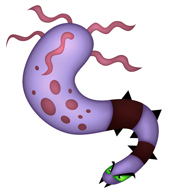 The most common side effects following flu vaccinations are mild. The most common side effects are soreness, redness, tenderness, or swelling where the flu shot was given or nasal congestion after receiving the flu vaccine nasal spray.
The CDC and the Food and Drug Administration (FDA) monitor for signs from flu reports that flu vaccines are causing unexpected adverse events and are working with state and local health officials to investigate any unusual events.
Can I get vaccinated and still get the flu?
Yes. It's possible to get sick with the flu even if you have been vaccinated, although you won't know for sure unless you get a flu test. It can happen because:
You may be exposed to a flu virus shortly before getting vaccinated or during the period that it takes the body to gain protection after getting vaccinated. This exposure may result in you becoming ill with flu before the vaccine begins to protect you. (About 2 weeks after vaccination, antibodies that provide protection develop in the body.)
You may be exposed to a flu virus that is not included in the seasonal flu vaccine. There are many different flu viruses that circulate every year. The flu vaccine is made to protect against the three or four flu viruses that research suggests will be most common.
Unfortunately, some people can become infected with a flu virus that the flu vaccine is designed to protect against, despite getting vaccinated. Protection provided by flu vaccination can vary widely, based in part on health and age factors of the person getting vaccinated. In general, the flu vaccine works best among healthy younger adults and older children. Some older people and people with certain chronic illnesses may develop less immunity after vaccination. Flu vaccination is not a perfect tool, but it is the best way to protect against flu infection.
What's the difference between the flu shot and the FluMist?
Until recent years we have only had one type of flu vaccine. Today, there is a choice: the traditional flu shot or the newer nasal spray flu vaccine, FluMist. According to CDC, either vaccine will help protect against the flu virus, but some people are better suited for the flu shot. Research suggests that the flu shot is better for older children and adults while the nasal spray is more effective in young children (ages two to eight years).
The flu shot is made from inactivated influenza virus and it cannot give you the flu. It can be used for children starting at age six months and for all adults.
The nasal flu vaccine is sprayed into the nose. While it is a live vaccine, the virus has been weakened so that it cannot cause the flu, though you may experience mild flu-like symptoms. The nasal vaccine can be used by anyone between the ages of two and 49 years who is generally healthy and not pregnant.
For the 2014, 2015 season, it is recommended that healthy children 2-8 years of age receive the nasal spray flu vaccine instead of the flu shot when it is immediately available. This recommendation is based on a review of available studies that suggests that the nasal spray vaccine provides better protection than the flu shot in this age group against laboratory-confirmed, medically attended flu illness.
Where can I get a flu shot?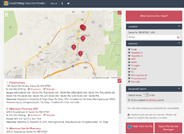 Most drug store chains offer flu immunizations, as do most primary care physicians as well as local urgent care facilities.
The New Mexico Department of Health offers vaccinations for people without insurance or who are otherwise not able to get vaccinated. Those with Medicaid or other health insurance should bring their insurance cards with them to the clinic.
For information on locations in your area visit our Public Health Offices page or use the HealthMap Vaccine Finder website.
Good Health Habits for Preventing Seasonal Flu
1. Avoid close contact.
Avoid close contact with people who are sick. When you are sick, keep your distance from others to protect them from getting sick too.
2. Stay home when you are sick.
If possible, stay home from work, school, and errands when you are sick. You will help prevent others from catching your illness.
3. Cover your mouth and nose.
Cover your mouth and nose with a tissue when coughing or sneezing. It may prevent those around you from getting sick.
4. Clean your hands.
Washing your hands often will help protect you from germs. If soap and water are not available, use an alcohol-based hand rub if your hands are not visibly soiled.
5. Avoid touching your eyes, nose or mouth.
Germs are often spread when a person touches something that is contaminated with germs and then touches his or her eyes, nose, or mouth.
6. Practice other good health habits.
Clean and disinfect frequently touched surfaces at home, work or school, especially when someone is ill. Get plenty of sleep, be physically active, manage your stress, drink plenty of fluids, and eat nutritious food.
What should I do if I get the flu?
Stay home from work or school, and rest.
Avoid contact with others.
Rest and drink lots of non-caffeinated fluids and avoid alcohol
Wash your hands often to protect the people around you.
Cover your mouth and nose when coughing or sneezing.
If you are in a high-risk group, call your health care provider for advice.
Go to the doctor or the emergency room if you are having these symptoms:
Difficulty breathing or shortness of breath
Pain or pressure in the chest or abdomen
Sudden dizziness
Confusion
Severe or persistent vomiting
Flu-like symptoms that improve, but return with worse fever and cough
---
Treatment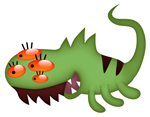 Antivirals
There are medications called "antiviral drugs" that treat flu.
Antiviral drugs fight against the flu in your body and you can only get them if you have a prescription from a healthcare provider. Antiviral drugs are different from antibiotics which fight against bacterial infections.
If you have a high risk condition or are in a high risk group and you get flu symptoms, see a healthcare provider as soon as possible because antiviral drugs can prevent serious flu complications, like pneumonia and death. Treatment with an antiviral drug can mean the difference between having milder illness instead of very serious illness that could result in a hospital stay. Studies show that flu antiviral drugs work best when they are started early, within 2 days of getting sick if possible.
A flu vaccine is still the best way to prevent influenza, and antiviral drugs are a very important second line of defense to treat the flu if you get sick.
Taking Care of Yourself
The following are health and age factors that increase a person's risk of getting serious complications from the flu:
Asthma
Neurological and neurodevelopmental conditions
Blood disorders (such as sickle cell disease)
Chronic lung disease (such as COPD and cystic fibrosis)
Endocrine disorders (such as diabetes mellitus)
Heart disease (such as congenital heart disease, congestive heart failure and coronary artery disease)
Kidney disorders
Liver disorders
Metabolic disorders (such as inherited metabolic disorders and mitochondrial disorders)
Morbid obesity (BMI of 40 or higher)
People younger than 19 years of age on long-term aspirin therapy
Weakened immune system due to disease or medication (such as people with HIV or AIDS, or cancer, or those on chronic steroids)
Other people at high risk from the flu:
Adults 65 years and older
Children younger than five years old, but especially children younger than two years old
Pregnant women and women up to two weeks after the end of pregnancy
American Indians and Alaska Natives
What happens if I get the flu while pregnant?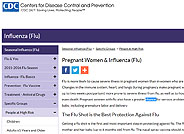 Changes to your immune system during pregnancy can make you more sensitive to the flu. This can result in serious problems for your unborn baby, including premature labor and delivery. Additionally, fever in early pregnancy can lead to birth defects.
If you get flu-like symptoms, contact your health care provider immediately. If necessary, your health care provider will prescribe an antiviral medicine to treat you.
For more information, visit the Pregnancy and Flu Information page.
---
Health Professionals/Schools/Children
Health Care Personnel
The Centers for Disease Control and Prevention (CDC), the Advisory Committee on Immunization Practices (ACIP), and the Healthcare Infection Control Practices Advisory Committee (HICPAC) recommend that all US health care personnel get vaccinated annually against the flu.
Health care personnel include (but are not limited to) physicians, nurses, nursing assistants, therapists, technicians, emergency medical service personnel, dental personnel, pharmacists, laboratory personnel, autopsy personnel, students and trainees, contractual staff not employed by the health care facility, and persons (e.g., clerical, dietary, housekeeping, laundry, security, maintenance, administrative, billing, and volunteers) not directly involved in patient care but potentially exposed to infectious agents that can be transmitted to and from health care personnel and patients.
For infection control tips for health care providers visit the Influenza Vaccination Information for Health Care Workers and Ask the Experts: Diseases & Vaccines pages.
Schools & Childcare Providers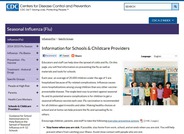 The Centers for Disease Control and Prevention (CDC) report that each year, an average of 20,000 children under the age of 5 are hospitalized because of flu-related complications. Flu causes more hospitalizations among young children than any other vaccine-preventable disease. The single best way to protect against seasonal flu and its potential severe complications is for children to get a seasonal influenza vaccine each year. Flu vaccination is recommended for all children aged 6 months and older. Making healthy choices at school and at home can help prevent the flu and spreading flu to others.
For infection control tips for schools and childcare providers, visit the Information for Schools & Childcare Providers page.
First Responders
If signs or symptoms of acute febrile respiratory illness are not present, proceed with normal EMS care.
Standard PLUS Droplet Precautions should be used in the care of patients with acute febrile respiratory illness.
Droplet and Standard Precautions are recommended for all suspected or confirmed influenza patients.
Place a surgical mask on the patient, but if this is not possible, have the patient cover mouth/nose with tissue when coughing or use another practical method to contain cough.
NOTE: Small facemasks are available that can be worn by children, but it may be problematic for children to wear them correctly and consistently. Moreover, no facemasks (or respirators) have been cleared by the FDA specifically for use by children.
The Minnesota Department of Health has created an Influenza Infection Control Guidance for First Responders page which contains a wealth of useful information.
---
Surveillance
For current information on influenza in New Mexico, please visit the Influenza Surveillance Program section of our website.
Vaccine Exemption Rates
---
Other Resources & Media