Healthcare-Associated Infections Program
Healthcare-associated Infections (HAI) are infections that patients acquire while receiving treatment for other conditions. Healthcare-associated infections are one of the top 10 causes of death in the US They are the most common complication of hospital care. And, there are evidence-based prevention guidelines that can greatly reduce the numbers of healthcare-associated infections.
New Mexico is working to identify and reduce the prevalence of HAI in the state. On this website you can find reports, information for the media, and resources and tools for healthcare providers and consumers to help reduce and prevent these infections.
---
Table of Contents
---
Prevention
Healthcare-associated infections (HAI) are serious and impact many lives every year. Some people have extended hospital stays, ongoing medical complications, and increased expense from dealing with these infections. Some even die.
Some of these infections can be avoided. Healthcare facilities in New Mexico are working to identify and reduce these infections. Many New Mexico healthcare facilities are focusing on improving practices to reduce central-line associated bloodstream infections and to reduce transmission of Clostridium difficile infections (an infection of the colon related to antibiotic use in both community and healthcare settings). They are also working to improve influenza immunization rates of healthcare workers, which reduces the risk of patients being exposed to flu while they are already ill. Even before they get signs and symptoms of flu, healthcare workers can shed influenza virus and transmit it to patients and other healthcare workers.
Below you will find information on how you can help by asking your healthcare provider what he or she is doing to keep you safe and also what you can directly do to improve your safety and the safety of the people you visit in healthcare facilities.
Not all of these infections can be avoided. The 'bugs' we are dealing with sometimes change faster than doctors can figure out how to treat them. Sometimes we are just so sick that our bodies can't fight the bacteria that are on our skin every day. It is important that we all work together to improve the safety of our healthcare system. Thank you for visiting our website and wanting to learn more.
Your Role
Remember to do your part and follow these simple steps. Wash your hands frequently and don't be afraid to ask your healthcare provider questions.
Clean Your Hands
Rub your palms, fingernails, in between your fingers, and the backs of your hands using either soap and water or alcohol-based sanitizer if your hands are not visibly soiled.
Make sure your healthcare providers wash their hands. Hands should be washed before putting on gloves.
If you didn't see your provider wash their hands, don't be afraid to ask them to wash again.
Cover Your Mouth and Nose
Cough and sneeze into a tissue disposed of properly, or into your sleeve.
Cover your mouth and nose when coughing or sneezing.
If You Are Sick
If you are sick, avoid close contact with others.
Do not visit patients if you are sick.
Get Shots to Avoid Disease
Keep all your immunizations up to date. Get shots to avoid disease and fight the spread of infection.
Visit the Vaccines Federal Information Gateway to educate yourself on immunization and the best ways to protect yourself and your family from infectious diseases.
Partnership with Your Providers
Healthcare providers know they should practice hand hygiene, but they sometimes forget. Most welcome your friendly reminder. Ask healthcare providers to practice hand hygiene in a polite way – tell them that you know that infections can be acquired in a healthcare setting and that you don't want it to happen to you.
It is also important to be an informed consumer of antibiotics. Learn how to Get Smart About Antibiotics and work with your healthcare provider to take antibiotics only when you need them and to take them properly.
Hospitalization
If you or a loved one is hospitalized, there are steps you can take to lower the risk of HAI transmission.
Make sure you wash your hands.
Ask the hospital staff to do the same before and after they provide care, such as changing bandages.
Tell the nurse if you notice that bandages are not clean, dry, or attached around wounds.
Tell your friends and family members to avoid hospital visits if they have a cold or aren't feeling well.
Don't be afraid to speak up.
See the Ten Things You Can Do to Be a Safe Patient page for more information on steps to take when hospitalized.
Frequently Asked Questions
The Society for Healthcare Epidemiology of America (SHEA) has created the following reference pages on three of the most common HAI and what can be done to prevent them.
Please see our helpful Healthcare-Associated Infections Definitions document for help understanding several commonly used terms related to Healthcare-Associated Infections.
---
History
The New Mexico HAI Advisory Committee was formed and a pilot was conducted to study the feasibility of conducting surveillance for HAI in New Mexico. The HAI pilot included six hospitals located in Albuquerque, Alamogordo, Farmington and Las Cruces that voluntarily submit data about the number of central line-associated bloodstream infections in their adult intensive care units and influenza vaccination of their healthcare workers. Please see the Healthcare-Associated Infections Pilot Report 2009 for results of this pilot project.
In 2009 The Hospital-Acquired Infection Act, NMSA 1978 §§ 24-29 (2009) was enacted which formalized the New Mexico HAI Advisory Committee and its role while keeping HAI data submission voluntary in New Mexico. The Committee is facilitated by the New Mexico Department of Health and is currently working toward its goals related to public reporting and prevention of HAI.
In January 2010 the New Mexico HAI Advisory Committee submitted the New Mexico Healthcare-Associated Infections Prevention Plan. The Plan provides for standardized data submission and for implementation of best practices to prevent HAI in New Mexico healthcare facilities.
As progress on the Prevention Plan continues, more facilities are submitting HAI data voluntarily and the New Mexico HAI Program will continue to identify and expand prevention efforts in New Mexico.
---
Initiatives
Multiple HAI initiatives are underway in New Mexico, some of which are operating state wide, and others focused in specific healthcare facilities. Statewide activities being conducted by the New Mexico Healthcare-associated Infections Program are listed below. The program encourages enrollment of New Mexico healthcare facilities for voluntary data submission on specified HAI indicators.
The data submitted by healthcare facilities will be used in support of collaborative solutions at the healthcare facility level to decrease HAI, improved NMDOH HAI surveillance and response capacity, and consumer needs for HAI related information.
Healthcare facilities can participate in any or all of the following three components: New Mexico HAI Reporting Group, Learning Collaboratives, and New Mexico Emerging Infections Program for Healthcare-Associated Infections.
For information on joining, please contact us at our hai.program@state.nm.us address.
New Mexico HAI Reporting Group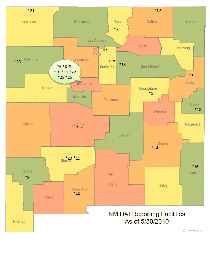 Purpose
The purpose of the New Mexico HAI Reporting Group is to promote the voluntary healthcare facility data reporting.
The Healthcare-Associated Infections Reporting Group List of Participating Facilities map provides a comprehensive list and map of participating facilities. These participating reporting facilities in New Mexico currently represent all of the various Public Health Regions in the state.
Reportable Infections
Adult & pediatric ICU Central Line-Associated Bloodstream Infections (CLABSI)
Non-ICU CLABSI
Clostridium difficile infections
Benefits
Gain expertise in standardized HAI data submission using National Healthcare Safety Network (NHSN), a federally supported electronic database mandated for Centers for Medicare & Medicaid Services HAI reports beginning January 2011.
Receive surveillance and data reporting support from NMDOH.
Maximize healthcare facility resources through efficient surveillance systems, improved prevention practices and reduced infection rates.
Influence regulatory process related to HAI reporting.
Expectations
Enroll in NHSN or other specified data systems for data submission of New Mexico HAI Program indicators.
Submit data per specified time lines.
Inclusion in aggregated and, as of July 2011, facility-specific public reporting of indicators.
Learning Collaboratives
Purpose
Collaborate with staff from other New Mexico facilities to develop surveillance standards and best practices, educate patients and providers, share knowledge, and work together to decrease the rate of HAI in participating facilities.
Benefits
Reduce HAI rates and improve prevention practices.
Address current and pending The Joint Commission and Centers for Medicare & Medicaid Services priorities.
Learn from peers and nationally recognized experts.
Expectations
Submit process and outcome data per specified time lines.
Participate in regular educational conference calls, webinars, and face to face learning sessions.
Enrollment in NHSN not required; however, NMDOH encourages enrollment and supports those who submit data to NMDOH Reporting Group through NHSN.
Emerging Infections Program for Healthcare-Associated Infections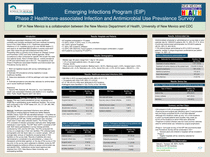 The Emerging Infections Program (EIP) for Healthcare-Associated Infections (HAI) is a population based network through Centers for Disease Control and Prevention (CDC) and state health departments.
The goal of EIP HAI is to conduct surveillance for emerging HAI. There are 10 EIP HAI sites across the United States including New Mexico.
The New Mexico EIP HAI is currently working on two projects. The 2010-2011 projects are the HAI and Antimicrobial Use Prevalence Survey and the Denominator Data Simplification project. NMDOH has created a separate group in NHSN called NMEIP. This network/group serves as a potential pool of facilities that may volunteer to participate in EIP HAI NHSN projects. We welcome and encourage New Mexico healthcare facility Infection Preventionists (IP) to participate in these projects. Joining the group in NHSN does not commit the IP or facility to any specific project.
The overall goal of the EIP HAI projects is to minimize work done by IP on EIP HAI projects and maximize that done by dedicated NMDOH staff.
Please see the Healthcare-Associated Infection and Antimicrobial Use Prevalence Survey (Phase 2) Poster and visit the EIP Healthcare-Associated Infections Community Interface section of our website to learn more.
---
Advisory Committee
The New Mexico HAI Advisory Committee was formed after the The Hospital-Acquired Infection Act (NMSA 1978 §§ 24-29) was passed to guide the development of the New Mexico HAI program including establishing surveillance standards, identifying the HAI indicators to be subject to surveillance and to develop useful, and understandable public reporting mechanisms.
Meetings
The committee complies with the open meetings act and any meetings subject to the open meetings act, at which the discussion or adoption of any proposed resolution, rule, regulation or formal action occurs, are open to the public.
Next Meeting
To Be Announced
Schedule
The committee meets every other month. The routine meeting schedule is as follows.
The 4th Thursday of January, March, May, July, September @ 9:30am - 11:00am
The 3rd Thursday of November @ 9:30am - 11:00am
Location
Unless otherwise indicated, all meetings are held at the HealthInsight New Mexico Offices located at 5801 Osuna NE (Suite 200) in Albuquerque.
Agendas
The agenda for regular meetings will be made available at least seventy-two hours before each meeting. A copy of the agenda may be requested by contacting us at our hai.program@state.nm.us address or calling 505-476-3520.
In addition to posting any changes in date, location or time on this site, a written notice of change will be posted at the HAI program offices at the Harold Runnels Building.
Minutes
Please check back soon.
Membership
Committee member representation currently consists of the following. Additional members of the committee are chosen based on the current focus of the HAI work and expertise that can further that work.
Non-Voting Members
Advisory Committee Facilitator, New Mexico HAI Prevention Coordinator, NMDOH
Voting Members
New Mexico Consumer
New Mexico Quality Improvement Organization, Health Insight New Mexico
Large/Urban Healthcare Facility, Infection Preventionist
Small/Rural Healthcare Facility, Infection Preventionist
Hospital Epidemiologist (Academic)
New Mexico Representative of Society for Healthcare Epidemiology of America
HAI Epidemiologist, NMDOH
---
Important Documents
---
Training Materials
---
Nationwide Resources