Performance Management & Quality Improvement
The New Mexico Department of Health (NMDOH) is a centralized public health agency serving 33 counties and 23 federally recognized tribes, pueblos and nations through four regional and 54 local public health offices, and seven direct-care facilities. New Mexico's residents are diverse in background and culture. NMDOH is dedicated to meeting the needs of the people of New Mexico by providing services that are effective and efficient and that respect the state's rich diversity.
---
Performance Management System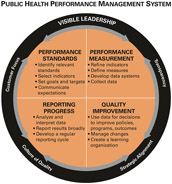 NMDOH uses a Performance Management System to ensure the achievement of its mission and strategic results. The Office of Policy and Accountability (OPA) is responsible for coordinating the NMDOH Performance Management System. NMDOH systematically collects and analyzes performance data to improve public health results.
The NMDOH Performance Management System is based on the Public Health Foundation's Public Health Performance Management System framework.
The Public Health Performance Management System has five components:
Visible Leadership: The commitment from Senior Leadership to achieving a culture of performance excellence.
Performance Standards: The use of organizational standards, targets, and results to improve public health practices.
Performance Measurement: The use of performance measures to assess the achievement of results.
Reporting Progress: The documentation and reporting of how standards and targets are met; being accountable and sharing results with everyone.
Quality Improvement: An ongoing process that manages change and leads to achieving measurable improvements in the efficiency and effectiveness of policies, programs, and results.
Results Scorecard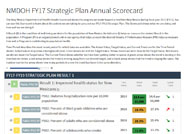 The NMDOH Performance Management System uses the Results Scorecard as a performance dashboard to communicate and facilitate transparency and accountability by sharing up-to-date information on the agency's performance. Results Scorecard helps our workforce improve performance and create a more beneficial impact for everyone. Results Scorecard informs budget, management, and planning decisions and demonstrates to our partners the progress we are making toward a Healthier New Mexico.
Key Performance Measures Report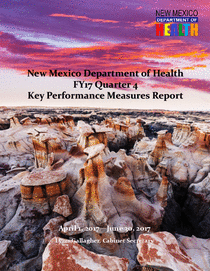 Performance Accountability is required by the Accountability in Government Act (AGA), which states that agencies should be evaluated for their performance in achieving desired outputs and outcomes and in efficiently operating programs. The AGA provides state government the framework to produce more cost-effective and responsive government services by using the state budget process.
Since at least 1999, when the state legislature enacted the AGA, NMDOH has embraced accountability as a value and a responsibility to the people we serve. NMDOH demonstrates performance accountability by reporting quarterly on key performance measures. The Key Performance Measures Report (released quarterly) includes key performance measures, targets, action plans, and historical and current data that assist NMDOH in achieving the agency's strategic priorities.
Strategic Plan Progress Report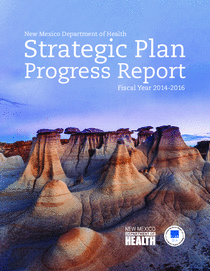 The Strategic Plan FY14-FY16 Progress Report describes the progress NMDOH and partners made toward our vision of a "Healthier New Mexico" during the last three fiscal years. The report documents our implementation of the NMDOH FY14-FY16 Strategic Plan, and includes updates on topics such as: Public Health Accreditation, The Health System in New Mexico, Health Disparities and Health Equity, and the Quality Improvement and Performance Management Model, among others.
The report is organized into four main areas: Population Health, Health Systems, Workforce, and Accountability. Each section includes Results, Indicators, and Performance Measures, which help us quantify our achievements and identify areas where additional efforts are needed.
Performance Management Assessment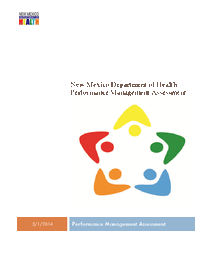 In 2014, NMDOH conducted a survey to determine the degree to which a formal, fully functioning, integrated performance management system is in place in our agency; assess employee awareness of the performance management system; and identify areas for improvement. The survey was distributed to professional staff throughout the agency.
The Performance Management Assessment report summarizes the results of this agency-wide survey. The results from the Performance Management Assessment were used to:
Inform NMDOH's effort to instill a quality improvement culture;
Identify system and structural components of the performance management system that do not enhance the quality of services provided by NMDOH; and
Promote involvement and ownership of NMDOH's quality culture among staff throughout the agency.
The NMDOH Performance Management Assessment measures and reflects our commitment to the delivery of high quality services for all New Mexicans.
---
Quality Improvement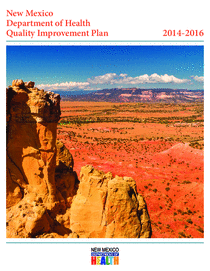 NMDOH is committed to the development and expansion of a quality improvement culture to ensure the provision of high quality services. Evidence of this commitment is the formal inclusion of Quality Improvement (QI) as a key component of NMDOH's Performance Management System. Quality Improvement is an integral part of a learning organization: using data when making decisions to improve policies, programs, and outcomes.
NMDOH maintains a Quality Improvement Plan (QIP) to provide guidance about how to improve quality throughout the organization. The QIP describes the processes and activities that will be put into place to ensure quality deliverables are produced consistently and are continuously improved.