Harm Reduction Program
The Harm Reduction Program works to reduce drug-related harm while enhancing individual, family, and community wellness, primarily through the provision of linguistically appropriate and culturally competent services to injection drug users.
---
Important Notice
Harm Reduction & Syringe Exchange HearingHarm Reduction - Public Meeting11/09/2016 @ 9:00 AM - 12:00 PM
Harold Runnels Building
1190 S. St. Francis Drive, Santa Fe, NM 87505505-827-2613 Phone - 505-827-2530 Fax
The meeting will be on the first floor in the auditorium (Room A-1006). The public hearing will be conducted to receive public comment regarding the proposed repeal and replacement of 7.4.6 NMAC.
A copy of the Proposed Rule Changes for NMAC 7.4.6 (Requirements Governing the Harm Reduction/Syringe Exchange Program) can be obtained from:
Dominick Zurlo
New Mexico Department of Health
Public Health Division-Hepatitis and Harm Reduction
1190 S. St. Francis Drive
P.O. Suite S-1300
Santa Fe, NM 87505
505-827-2507
Please submit any written comments regarding the proposed rules to the attention of Dominick Zurlo at the above address or e-mail prior to the hearing. If you are an individual with a disability who is in need of special assistance or accommodations to attend or participate in the hearing, please contact Dominick Zurlo at 505-827-2507. The Department requests at least ten (10) days advance notice for special accommodations requests.
---
About Us
Goals
Reduce the transmission of bloodborne infections, including hepatitis & HIV, to limit the frequency of physical injury from abscesses & vein damage, and to minimize other diseases such as endocarditic & septicemia.
Educate participants on ways to reduce the potential for harm associated with substance use and other related activities.
Facilitate access to other health-related services including traditional preventive and primary medical care, as well as alternative healthcare resources.
Act as a conduit for referring participants to additional substance use treatment programs when requested.
Refer participants to behavioral health and other social services such as housing, counseling services, benefit programs, and other supportive services.
Support participants within the parameters of providing professional services.
Services
Syringe services (including syringe exchange) & related harm reduction services.
Overdose prevention training and naloxone distribution.
Auricular detoxification treatment.
Complementary medicine interventions using a Doctor of Oriental Medicine and community traditional healers.
Home delivery syringe services and overdose prevention training (in some areas).
Community health and social service referrals.
Primary medical care referrals and is some areas, limited direct service.
Buprenorphine opiate substitution therapy referrals.
Training and education to law enforcement regarding the New Mexico Harm Reduction Act, and the public health benefits of syringe services, overdose prevention education, and harm reduction programs.
Assistance in food support, substance use treatment, medical services, clothing and housing.
Provides syringes to people using insulin if they cannot otherwise afford or obtain them.
Who We Serve
Individuals injecting substances
Commercial sex workers
Men who have sex with men
Individuals experiencing homelessness
Individuals who have been incarcerated
Individuals using crack-cocaine, methamphetamine, or other substances
---
Videos
---
Publications
Forms
Education
Library
Statutes, Regulations, Guidelines, & Standing Orders
New Mexico Statutes Annotated 1978
New Mexico Administrative Code
NMAC 7.32.7 — Overdose Prevention and Education Program Authorization for Opioid Antagonists
Standing Orders
---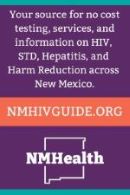 Resource Guide
To find a harm reduction, syringe exchange or overdose prevention (Narcan) program near you, visit our HIV/STD/Hepatitis Resource Guide.
This valuable community based website offering resources and information about services related to HIV, STDs, Viral Hepatitis, and Harm Reduction.
It features a searchable guide that will help you find the best and most appropriate services in your area.
---
Recent Activity
Latest
Popular
Featured
Latest
Popular
Latest
Popular