Harm Reduction Program
The Harm Reduction Program works to reduce drug-related harm while enhancing individual, family, and community wellness, primarily through the provision of linguistically appropriate and culturally competent services to injection drug users.
---
About Us
Goals
Reduce the transmission of bloodborne infections, including hepatitis & HIV, to limit the frequency of physical injury from abscesses & vein damage, and to minimize other diseases such as endocarditic & septicemia.
Educate participants on ways to reduce the potential for harm associated with substance use and other related activities.
Facilitate access to other health-related services including traditional preventive and primary medical care, as well as alternative healthcare resources.
Act as a conduit for referring participants to additional substance use treatment programs when requested.
Refer participants to behavioral health and other social services such as housing, counseling services, benefit programs, and other supportive services.
Support participants within the parameters of providing professional services.
Services
Syringe services (including syringe exchange) & related harm reduction services.
Overdose prevention training and naloxone distribution.
Auricular detoxification treatment.
Complementary medicine interventions using a Doctor of Oriental Medicine and community traditional healers.
Home delivery syringe services and overdose prevention training (in some areas).
Community health and social service referrals.
Primary medical care referrals and is some areas, limited direct service.
Buprenorphine opiate substitution therapy referrals.
Training and education to law enforcement regarding the New Mexico Harm Reduction Act, and the public health benefits of syringe services, overdose prevention education, and harm reduction programs.
Assistance in food support, substance use treatment, medical services, clothing and housing.
Provides syringes to people using insulin if they cannot otherwise afford or obtain them.
Who We Serve
Individuals injecting substances
Commercial sex workers
Men who have sex with men
Individuals experiencing homelessness
Individuals who have been incarcerated
Individuals using crack-cocaine, methamphetamine, or other substances
---
Videos
---
Publications
Forms
Education
Pocket Education Cards
Library
Statutes, Regulations, Guidelines, & Standing Orders
New Mexico Statutes Annotated 1978
New Mexico Administrative Code
NMAC 7.32.7 — Overdose Prevention and Education Program Authorization for Opioid Antagonists
NMAC 7.4.6 — These regulations govern the operation of harm reduction programs for the purpose of sterile hypodermic syringe and needle exchange, education to participants, and referral to further substance treatment pursuant to the Harm Reduction Act.
Protocols
Standing Orders
Information for Pharmacists
Information for Law Enforcement
---
New Mexico Harm Reduction Mailing List
To join the New Mexico Harm Reduction List-serve for updates about the program, Please send an email with "Subscribe" in the Subject line (without quotes) to nm-harm-reduction-subscribe@yahoogroups.com. Then, follow the instructions sent by email to confirm joining the List-serve.
Additional Group Email Addresses
Subscribe: nm-harm-reduction-subscribe@yahoogroups.com
Unsubscribe: nm-harm-reduction-unsubscribe@yahoogroups.com
Post Message: nm-harm-reduction@yahoogroups.com
List Owner: nm-harm-reduction-owner@yahoogroups.com
---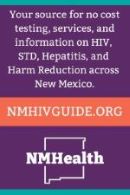 Resource Guide
To find a harm reduction, syringe exchange or overdose prevention (Narcan) program near you, visit our HIV/STD/Hepatitis Resource Guide.
This valuable community based website offering resources and information about services related to HIV, STDs, Viral Hepatitis, and Harm Reduction.
It features a searchable guide that will help you find the best and most appropriate services in your area.
---
Recent Activity
Latest
Popular
Latest
Popular
Latest
Popular