Walking Challenge Promueve Una Vida Saludable
---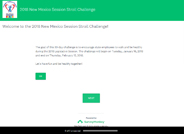 Mientras la Legislatura de Nuevo México se prepara para el inicio de la Sesión Legislativa 2018, el Departamento de Salud de Nuevo México (NMDOH) ha organizado un desafío a caminar "Paseo de Sesión " para animar a sus empleados a estar activos durante la sesión legislativa de 30 días. NMDOH extiende la invitación a los legisladores, el personal legislativo y otras agencias estatales para que participen.
Se anima a los participantes del desafío a registrar su actividad de caminar desde el día de apertura de la sesión legislativa el 16 de enero hasta el final de la sesión el 15 de febrero. Al final de los 30 días, los participantes individuales y grupales reportarán todas las millas recorridas durante la sesión a NMDOH. También se les pide a los participantes que tomen fotografías y compartan sus viajes a pie usando #NMDOHSessionStroll para que se pueda hacer un collage al final del desafío.
"Participar en el análisis legislativo de leyes, audiencias de comités y otras actividades legislativas a menudo puede significar estar mucho tiempo sentado", dijo Lynn Gallagher, secretaria del gabinete del Departamento de Salud. "Esta es una manera emocionante de que todos se mantengan motivados para mantenerse activos durante toda la sesión y aprovechen simples oportunidades para moverse más".
Caminar lo puede ayudar a mantenerse en forma y reducir el riesgo de enfermedades graves como enfermedades cardíacas, accidentes cerebrovasculares, diabetes y más. NMDOH informa que la enfermedad cardíaca es la principal causa de muerte en Nuevo México y representa más del 20% de todas las muertes. El accidente cerebrovascular es la quinta causa de muerte en Nuevo México.
American Heart Association recomienda que los adultos realicen al menos 150 minutos de actividad física de intensidad moderada o 75 minutos de actividad física vigorosa cada semana.
Para empezar, todo lo que usted necesita es ropa cómoda y zapatos de apoyo. Si está caminando afuera, asegúrese de vestirse en capas con ropa holgada, teniendo en cuenta que una caminata rápida puede elevar la temperatura de su cuerpo. Hay más consejos para caminar disponibles en el sitio web American Heart Association.
La inscripción para el desafío a caminar está disponible para individuos o grupos en el sitio web Session Stroll Challenge 2018.
---
Contacto con los Medios
Estaríamos encantados de proporcionar información adicional sobre esta nota de prensa. Simplemente póngase en contacto David Morgan al 575-528-5197 (oficina) o 575-649-0754 (móvil) con sus preguntas.
---
English Version
In an effort to make our news releases more accessible, we also have an English version of this article available. Please click the link below to access the translation.