Vaccines for Children Program

The Vaccines for Children (VFC) program is a federally-funded program that provides vaccines at no cost to children who might not otherwise be vaccinated because of an inability to pay.
Publicly purchased vaccine for eligible children are supplied at no charge to VFC-enrolled public and private providers in all 50 states, the Commonwealth of Puerto Rico, the US Virgin Islands, American Samoa, Guam, and the Commonwealth of the Northern Mariana Islands.
---
Where can I get a flu shot?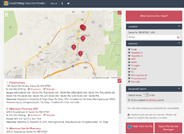 Most drug store chains offer flu immunizations, as do most primary care physicians as well as local urgent care facilities.
The New Mexico Department of Health offers vaccinations for people without insurance or who are otherwise not able to get vaccinated. Those with Medicaid or other health insurance should bring their insurance cards with them to the clinic.
For information on locations in your area visit our Public Health Offices page or use the HealthMap Vaccine Finder website.
---
Fast Facts
The VFC program represents an unprecedented approach to improving vaccine availability nationwide by making federally purchased vaccine available to both public and private immunization providers.
The program was officially implemented in October 1994 as part of the President's Childhood Immunization Initiative.
The VFC program, as a component of each state's medical assistance plan, is considered a Title XIX Medicaid program.
Through passage of VFC resolutions, VFC covers vaccines recommended by the Advisory Committee on Immunization Practices.
Medicaid-eligible children and those providers who provide care for the Medicaid population (i.e., Medicaid providers) represent the majority of VFC federally vaccine-eligible children and VFC providers.
It also includes other VFC program-enrolled providers and the other VFC-eligible children who qualify as federally vaccine-eligible or state vaccine-eligible.
---
Documentation
General Information
Digital Data Loggers
Videos
Vaccine Screening Forms
These screening forms from the Immunization Action Coalition are useful in identifying patients who should not be vaccinated due to health or age concerns.
Forms & Instructions
School Vaccine Administration Forms
Provider Temperature Log Forms
Child Health Immunization Learning Initiative
Instructional Setup Guides
Publications