Family Planning Program
Health Data
One of the goals of the Department of Health Family Planning Program (FPP) is to reduce the number of teen births in New Mexico.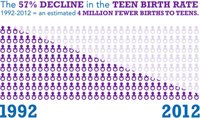 National and New Mexico Teen Birth Rate Data
In New Mexico, the teen birth rate has been steadily declining since 2007. Between 2007 and 2015, the teen birth rate for 15-19 year olds decreased 47.5%. Between 1992 and 2012, while the US saw a decrease of 57%, New Mexico saw a decrease of 40.9%.
Reports
How to Reduce Teen Pregnancy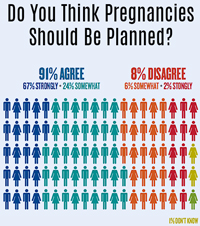 Did you know that over 90% of unmarried, young adults, think that pregnancies should be planned?
There is a two-pronged approach to reduce teen pregnancies: to provide educational programming to all teens to give them the self-efficacy to make safe and healthy reproductive health choices and to provide most- and moderately-effective contraceptive methods to sexually-active teens who request them.
Educational program include service learning and positive youth development programs, adult-teen communication programs, and comprehensive sex education programs.
For more information, visit the Why Teen Pregnancy Matters website.
Also, parents should check out the Teen Pregnancy Information for Parents web page for helpful resources.
Implant Method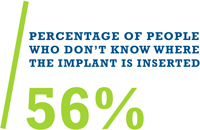 The most effective birth control is a small, flexible implant only 1.6 inches long that is placed under the skin on the inside of a woman's upper arm. The contraceptive implant, which is the size of a matchstick, is over 99% effective at preventing pregnancy for up to three years.
The New Mexico Department of Health (NMDOH) has seen an increase in the use of this most effective contraceptive method by teens, coinciding with a related decrease in the teen birth rate (TBR) for 15-19 year olds.
Between 2012 and 2015, there has been a 200% increase in the use of implants in the 15- to 19-year-old teen population seen at NMDOH clinics. Between 2012 and 2014, NMDOH reports a 23% decrease in the teen birth rate for 15-19 year olds.
The contraceptive implant has been approved for use in teens since October 2012, when the American College of Obstetricians and Gynecologists' Committee on Adolescent Health Care released a committee opinion that the contraceptive implant is a safe and appropriate contraceptive method for most women and adolescents. This method is one of the most effective contraceptives, with a pregnancy rate of less than 1% per year for perfect use and typical use. Adolescents are at high risk of unintended pregnancy and may benefit from increased access to the contraceptive implant. The implant is injected by a licensed clinician in a clinic setting. The term "most and moderately-effective contraception" is used to describe the two tiers of contraception (implants and IUDs, compared to birth control pills, contraceptive patches, and vaginal rings).
Please visit the Teen Pregnancy Polling Data 2015 page for more information.
Health Disparity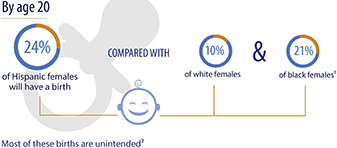 In New Mexico, Hispanic and American Indian teens aged 15-17 have babies at a higher rate than White and Black teens of the same ages. Hispanics and American Indians are 3.2 and 2.5 times more likely to have a baby than their Black peers (1.5 times) or White peers (comparison group).
Visit the New and Noteworthy Resources from Child Trends web page for more information.