Producers & Distributors
Licensed Non-Profit Producers (LNPP) serve the qualified patients of New Mexico. The objective is to ensure the safe production, distribution and dispensing of medical cannabis to qualified patients.
The LNPP application period is closed. NMDOH is not accepting applications from businesses interested in producing and distributing medical cannabis.
For additional information please review the Licensing Requirements section of the NMAC.
---
Important Notices
Approved Manufacturer Assessment - April 18, 2017
The Medical Cannabis Program is conducting an assessment of its approved manufacturers, labs and courier services and will not be accepting new applications for these entities until further notice.
---
Personal Production License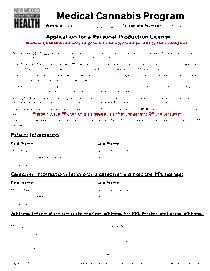 The Personal Production License (PPL) is available for Qualified Patients who wish to produce medical cannabis for personal use only. In most cases there is a $30.00 non-refundable fee required with the application. The fee is payable by check or money order only, no cash. Fill out the Medical Cannabis Personal Production Application to get started. You can find additional information in the Licensing Requirements section of the NMAC.
---
Identification Card Request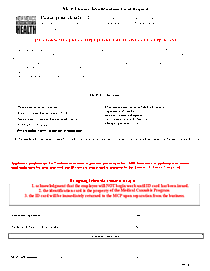 Use this form to request photocopy of identification, state or nation-wide criminal background checks, HIPAA certification, or replacement LNPP ID card.
---
Rule Amendment
The Department of Health ("Department") is adopting a rule amendment that removes a provision in Department rule NMAC 7.34.4.26 which made the identities and documents of non-profit producers and non-profit producer-applicants in the New Mexico Medical Cannabis Program confidential. A hearing was held concerning proposed rule amendments on Wednesday, January 6, 2016, at which public comment was received. The Department received the Hearing Officer's Report and Recommendation on 2/5/16, in which the Hearing Officer recommended that non-profit producer and non-profit producer-applicant confidentiality be removed. The Cabinet Secretary is implementing the recommendation of the Hearing Officer, and the Department has filed the rule amendments with New Mexico Records and Archives for publication in the New Mexico Register. Pursuant to the State Rules Act, those amendments will become effective on 2/29/16, when they are published in the Register. Accordingly, there will be no non-profit producer or non-profit producer-applicant confidentiality identified in Department rule as of 2/29/16.
The removal of non-profit producer and non-profit producer-applicant confidentiality was requested by the Governor, in the interest of greater transparency. Non-profit producer confidentiality is also the subject of an ongoing lawsuit filed by the Foundation for Open Government (case no. D-202-CV-2015-05674) in the Bernalillo County District Court.
The Department intends to withhold only limited information from non-profit producer and non-profit producer-applicant records when responding to requests to inspect or copy such records. The information to be withheld will be limited to only that information that is expressly confidential pursuant to state or federal statute or regulation. The information that will be withheld (i.e., redacted prior to inspection or copying) will include:
Home addresses and personal telephone numbers of employees and board members of both non-profit producers and applicants for non-profit producer licensure;
Social security numbers;
All but the last four digits of a:

taxpayer identification number;
financial account number; or
driver's license number;

All but the year of a person's date of birth;
Income tax returns;
Any information that identifies an individual as a qualified patient enrolled in the Medical Cannabis Program;
Notations of arrest or detention that indicate that an individual was accused but not charged with a crime.
The Department does not intend to withhold any information from non-profit producer or non-profit producer-applicant files on the basis of "trade secret" or on the basis of a generalized claim of the information being "proprietary" in nature.
The Department has not proposed and does not intend to remove the confidentiality provision concerning Personal Production License (PPL) holders (i.e., enrolled patients who hold licensure to grow medical cannabis for their own use); and such information will remain confidential in accordance with the patient confidentiality provision of the Lynn and Erin Compassionate Use Act, at NMSA 1978, § 26-2B-7(G).
---
Licensed Non-Profit Producer Reports
General Publications
Quarterly Statistics
2018
2017
2016
2015
2014
2013
---
Licensed Manufacturers
General Publications