Emergency Medical Services Continuing Education & Training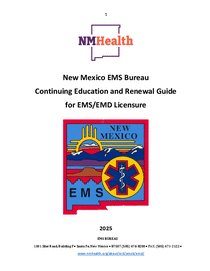 Our EMS Continuing Education & Renewal Guide is the primary reference source for any Emergency Medical Services (EMS) provider who is seeking clarification on renewal requirements and Continuing Education.
CE Program EMS Instructions for Conducting a Training Program are for CE coordinators and EMS instructors who wish to conduct a continuing education program. These instructions are invaluable in setting up a program for agencies and services, as well as guideline for instructors and coordinators developing classes and courses.
NOTE: It is extremely important to note that all of your CE approval requests must be completed by submitting a copy of our EMS Continuing Education Application form. Thank you so much!
---
EMS Christmas Conference
The New Mexico Christmas Foundation is partnering up with Southwest Emergency Education & Consulting. Together they are hosting an EMS Christmas Conference. Do you know any EMTs or nurses who need to get their Continuing Education credits before the end of the year? If so, they can sign up for our conference on December 2-3 in Rio Rancho. Visit the Southwest Emergency Education & Consulting site for more information and registration. 100% of the proceeds go to the New Mexico Christmas Foundation."
---
Course Lists
Please see the following lists for a wide selection of learning opportunities.
Pre-Approved Course Lists
---
Individual Course Announcements
EMS Providers CNM Continuing Education
Annual Pre-Hospital Management of Cardiovascular Disease
EMS Enchanted Circle 2017 Conference Schedule
---
Recent Activity
Latest
Latest
Popular