Emergency Medical Services Continuing Education & Training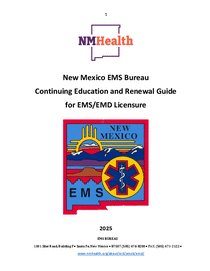 Our EMS Continuing Education & Renewal Guide is the primary reference source for any Emergency Medical Services (EMS) provider who is seeking clarification on renewal requirements and Continuing Education.
CE Program EMS Instructions for Conducting a Training Program are for CE coordinators and EMS instructors who wish to conduct a continuing education program. These instructions are invaluable in setting up a program for agencies and services, as well as guideline for instructors and coordinators developing classes and courses.
NOTE: It is extremely important to note that all of your CE approval requests must be completed by submitting a copy of our EMS Continuing Education Application form. Thank you so much!
---
Course Lists
Please see the following lists for a wide selection of learning opportunities.
Pre-Approved Course Lists
---
Individual Course Announcements
EMS Providers CNM Continuing Education
---
Recent Activity
Latest