Turquoise Lodge Hospital
Turquoise Lodge Hospital (TLH) provides substance abuse treatment services to New Mexico residents. We specialize in medical detoxification and rehabilitation services, in a hospital-based, intensive inpatient setting.
Priority patients for services include pregnant injecting drug users, pregnant substance abusers, other injecting drug users, women with dependent children, parenting women, and women and men seeking to regain custody of their children.
---
Recent Activity
Latest
Featured
Latest
Popular
Latest
---
Table of Contents
---
About Us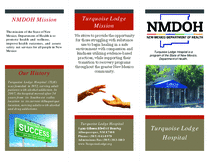 Mission
We strive to provide the opportunity for those struggling with substance use to begin healing in a safe environment with compassion and kindness. See the Turquoise Lodge Testimonials document to find out what patients and families are saying about us.
History
In 2007, Turquoise Lodge Hospital moved after 54 years from the southwest valley location to its current Albuquerque location at 5901 Zuni Road SE.
Treatment
Our Clinical Team consists of professionally licensed Medical, Psychiatric, Pharmacy, Nursing and Counseling staff. Our Professional staff has training and education in the field of addictions. Medical and Nursing care is provided 24 hours per day, seven days a week. The average length of stay depends on the individual. A medical detox typically takes 5-7 days.
As you complete detoxification, you and your treatment team will determine your need for continuing into the hospital's rehabilitation program, which is about 18-21 days long.
Our Commitment to you during hospitalization is to:
Provide you with a safe and protective environment.
Help you to resolve your acute symptoms.
Encourage your participation in a program with a community of peers.
Assist you to develop recovery skills in your continued effort to grow as an individual and to live your life substance free.
Disclaimer
Turquoise Lodge Hospital does not provide emergency medical services.
---
Adult Admissions
It is important to us to help you get treatment as soon as possible, and in the least restrictive environment. We are a hospital that provides medical detoxification and rehabilitation from substances that cause withdrawal symptoms. We also help individuals who expect to experience withdrawal but may also have the potential for additional medical or psychiatric complications.
Access to Treatment
Adults may contact admissions at 505-841-8978, then select option 4 to request voluntary treatment. Staff log your Request for Treatment (RFT) and let you know what to expect.
We'll call you back to conduct a telephone assessment within 1-3 business days, and in most cases we'll let you know whether you are approved for treatment and how long you can expect to wait for admission. Patient confidentiality laws only allow us to speak with the person seeking treatment and obtain their personal information related to drug or alcohol use.
You may have people in your support system participate with you by speaker phone. Patient confidentiality laws require that you be present on the phone for any calls related to your request for treatment, unless you have signed and filed a Release of Information with us.
Admission Criteria
You must be a New Mexico resident.
You must be age 18 or above.
You must be seeking treatment for alcohol/drugs addiction.
Preference to treatment is given to pregnant injecting drug users, pregnant substance abusers, other injecting drug users, women with dependent children, parenting women, and women and men seeking to regain custody of their children.
Documents
---
Visiting Our Facility
Driving
Turquoise Lodge Hospital is located in Albuquerque on the corner of Valencia and Zuni Rd SE. Valencia is located three blocks east of San Mateo.
Parking
Temporary visitor parking is located on the west side of the building. We do not have long term parking available. If you have an admission scheduled, please obtain transportation to the hospital through a friend or family member, or contact your insurance company's care coordinator to arrange a Safe Ride.
Building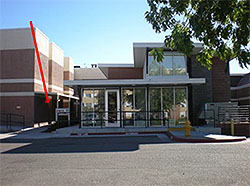 Enter through the breezeway and ring the bell on the glass door on your left.
Public Transportation
The City of Albuquerque has public transit system that is easily accessible. The Rapid Ride is accessible at San Mateo and Central. Please see the City of Albuquerque Bus Routes page for current bus schedules.
---
Frequently Asked Questions
Please see our Turquoise Lodge Frequently Asked Questions document for answers to the most common questions about TLH.
---
Other Addiction Treatment Providers & Programs
Organizations
Crisis Hotlines
---
Facility Photographs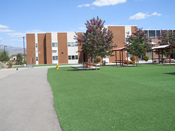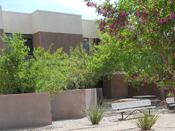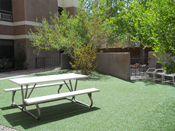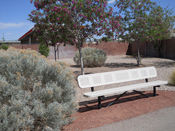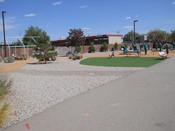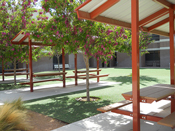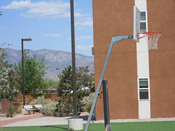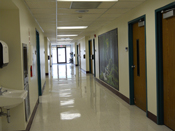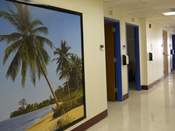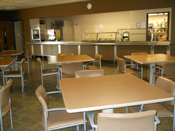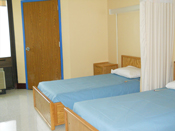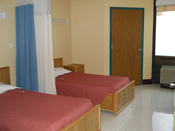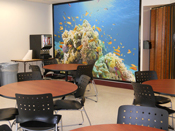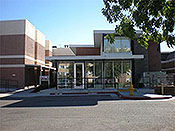 ---
Job Opportunities
Turquoise Lodge Hospital is part of the Department of Health, Facilities Division. Employment opportunities at TLH are posted by the State Personnel Office (SPO).
You can view the Job Opportunities at Turquoise Lodge Hospital on the SPO website today!