Perinatal Hepatitis B Prevention Program
---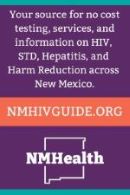 Resource Guide
To find a HIV testing or prevention program near you, visit our HIV/STD/Hepatitis Resource Guide.
This valuable community based website offering resources and information about services related to HIV, STDs, Viral Hepatitis, and Harm Reduction.
It features a searchable guide that will help you find the best and most appropriate services in your area.
---
Recent Activity
Latest
Popular
Latest
---
Mission
The purpose of the Perinatal Hepatitis B Program is to prevent the transmission of the Hepatitis B virus (HBV) from mother to infant. This is performed by the identification of young women of childbearing age with positive Hepatitis B lab results then determining if they are pregnant, if so they are case managed throughout their pregnancy and delivery. The infant is then followed to ensure they receive the appropriate post-exposure prophylaxis, complete their hepatitis B vaccine series and have their blood serology drawn to determine their immune status.
---
Who is At Risk?
In the United States, HBV infects about 80,000 each year, and 1.25 million people are chronically infected. As many as 90% of children infected perinatally will go on to develop chronic hepatitis B infection. About 5,000 Americans die each year from Hepatitis B and its related complications.
Infants are at very high risk of being infected with HBV when born to HBsAg positive mothers. Vertical transmission occurs from mother to baby during birth. Children who are not infected at birth remain at risk for horizontal transmission from interpersonal contact with their infected mothers or living in households with chronically infected persons through blood or exposure to infectious body fluids. Hepatitis B vaccine has been available since 1982 and is 95% effective in preventing HBV infection and its chronic consequences. It is the first vaccine against a major human cancer.
---
How Can it Be Prevented?
The key points of prevention appear below.
All pregnant women should be tested for HBsAg during each pregnancy.
All HBsAg-positive pregnant women must be reported to the state department of health.
Infants born to mothers who are HBsAg-positive should receive hepatitis B immune globulin (HBIG) and hepatitis B vaccine within 12 hours of birth.
Infants born to mothers whose HBsAg status is unknown should receive the hepatitis B vaccine within 12 hours of birth.
Preterm infants <2,000 grams should receive both the Hepatitis B vaccine and HBIG if the mother's HBsAg status cannot be determined within 12 hours of birth.
All delivery hospitals should implement standing orders to administer hepatitis B vaccine as routine medical care for all medically stable infants weighing over 2,000 grams.
All infants should complete the vaccine series according to the recommended hepatitis B vaccine schedule.
Infants born to HBsAg-positive mothers should be tested for HBsAg and antibody to HBsAg, no sooner than 9 months of age and it must be more than 30 days since their last Hepatitis B vaccination.
---
Can Adults Be Immunized?
Yes. The NMDOH hepatitis program, offers free hepatitis A and B immunization to the following high risk adults:
Persons who are current injection drug users and their sexual contacts.
Men who have sex with men and their sexual contacts.
Persons living with hepatitis C.
Persons living with HIV/AIDS.
Persons living with chronic hepatitis B.
Persons from endemic areas.
Heterosexuals with more than one sex partner in the last six months.
Persons diagnosed with a sexually transmitted disease.
Household and sexual contacts of people infected with hepatitis B.
For more information or to find out if you qualify for free immunization, please call your local Public Health Office or the Hepatitis C & Buprenorphine Helpline at 1-888-DOH-HEPC (1-888-364-4372).