Immunization Schedules
These schedules list the age or age range when each vaccine or series of shots is recommended. If your child (birth through 6 years old) or adolescent (age 7 through 18 years old) has missed any shots, consult the Catch-up Immunization Schedule AND check with the doctor about getting back on track.
Children
Adults
Please read the Contradictions and Precautions to Commonly Used Vaccines in Adults page for comprehensive information about vaccine safety.
---
Done By One (DBO) Childhood Immunization Schedule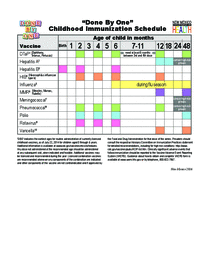 The Done by One Childhood Immunization Schedule has several advantages that we hope will encourage its acceptance by both providers and parents:
It's simple: all the needed shots are given at 2, 4, 6, and 12 months!
Kids become protected at the earliest possible age!
The condensed schedule discourages the practice of deferring shots until next time, resulting in missed opportunities to vaccinate.
These publications provide more info on the DBO program.
---
New Mexico School Immunization Schedule
---
International Resources