Northeast Health Promotion
Please see the main Health Promotion page for more information.
---
Health Councils
Health Promotion in the Northeast Region supports 12 Health Councils: 2 Tribal Health Councils and 10 County Health Councils. The Northeast Region Health Councils have developed health priorities, listed below, which they will address as they move forward.
Colfax County
Access to health care including mental health
Substance Abuse
Obesity/Diabetes
Child Abuse/Neglect
Guadalupe County
Substance Abuse Prevention for Adolescents and Adults
Mental Health
Obesity Prevention
Youth Development
Harding County
Access to Care
Transportation for the Elderly
Veterans Services
Older Adults
People in crisis and Financial Need
Youth and Families at Risk
Mora County
Alcohol Abuse
Substance Abuse
Underage Drinking
Behavioral Health
ER Diversion
Healthy Food and Nutrition
Housing
Jail Services
OD Death Reduction
Older Adults
Youth at Risk
Young Children
San Miguel County
Diabetes and Obesity
Teen Pregnancy
Access to Care
Interpersonal Violence
Substance Abuse
Increase Enrollment of Residents in Health Insurance
Reduce Alcohol Abuse
Reduce Drug Abuse
Reduce Low Birth Weight
Reduce Suicides
Increase Consumption of Healthy Food
Alcohol/Substance Abuse
Access/Affordability
Mental Health/Suicide
Diabetes
Cancer
Physicians
Maternal and Infant Measures Priority Populations
Santa Clara Pueblo Health Committee
Accessible Health Care
Maintaining Traditional Food & Agriculture Systems
Sustaining the Community's Cultural Traditions
Obesity Prevention
Comprehensive Community Health Services
Reduce Alcohol, Tobacco, & Substance Abuse
Collaborate with State and Federal Agencies
Promote Healthy Lifestyles
---
Team
The success of Health Promotion in the Northeast Region is dependent on a strong NMDOH team, and a network of reliable, knowledgeable partners.
---
Partners
The Health Promotion Team in the Northeast Region is fortunate to have many strong effective partners in our communities.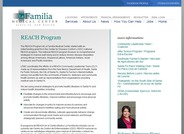 The La Familia Medical Center Research Program is implementing multiple strategies in Santa Fe County in support of healthy lifestyles.
Farmers Markets throughout the region including the Santa Fe Farmers Market, Española Farmers Market, Taos Farmers Market and Las Vegas Farmers Market, promote access to local healthy food, and provide a venue for Women, Infants and Children (WIC) participants to purchase healthy food.
The Santa Fe Metropolitan Planning Organization (MPO) works with local and regional partners to develop the Santa Fe Transportation Master Plan for traditional and alternative modes of transportation, including the Santa Fe Pedestrian Master Plan and the Santa Fe Bicycle Master Plan.
The Health Promotion Team works closely with the Healthy Kids New Mexico team to promote healthy lifestyle choices from an early age.
---
Spring Regional Health Council Gathering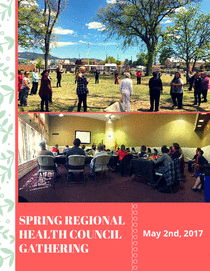 On May 2nd, the Northeast Region Health Promotion Team, the New Mexico Alliance of Health Councils, and the New Mexico School for the Deaf hosted a Northeast Regional Health Council Gathering (Spring 2017) for the health councils and community members in the Northeast Region of the state.
The theme for the day was collaboration among counties, networking, and finding common ground in our work with community health. The Health Promotion Team led the group in activities, providing opportunities for connecting and strategizing about health priorities.
During a mixer activity, where the group had quick one-on-one conversations with each other, the participants were surprised by how much their communities had in common and the intergenerational and intercultural elements they all share, as well as the fact they are all navigating the lack of resources to work on their concerns.
Another activity gave the group an opportunity to discuss and identify strategies to address the top health priorities they all have in common: access to healthcare, behavioral health, nutrition and physical activity, and youth engagement. They broke into smaller groups, documented their ideas on posters, and then reported back to the larger group.
At the end of the day, the attendees said they felt inspired by the amount of passion and the commitment to real community engagement they all have in common.