New Mexico Ranks Tops in Multiple Health Categories
---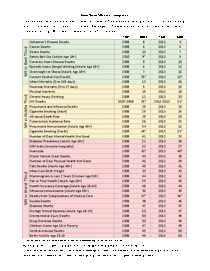 A health comparison, completed recently by the New Mexico Department of Health, finds New Mexico among the top 15 states in key health-related areas including fewest number of cancer or stroke deaths, highest rate of adult seatbelt use, and lowest number of overweight or obese adults.
New Mexico has the sixth lowest rate of cancer deaths and the seventh lowest number of deaths by stroke. The state also does well on several other health issues, such as adult safety belt use (9th highest nationwide), heart disease deaths (10th lowest), adult binge drinking (13th lowest) adult obesity (15th lowest), youth alcohol use (15th lowest), and infant mortality (16th lowest).
"These numbers are very important because they show New Mexicans moving in the right direction with regard to focusing on living a healthy lifestyle," said Department of Health Secretary Retta Ward, MPH. "Cancer and heart disease are by far the two leading causes of death in New Mexico and nationwide. They are also preventable in many cases when we make a lifelong habit of healthful choices, including diet, physical activity and avoidance of tobacco use."
The health comparison released by the New Mexico Department of Health this week shows how New Mexico compares with other states in the US on 43 measures of health over a period of several years. Data were compiled from several sources, including vital records (birth and death certificates), the US Census Bureau, and national surveys on health conditions and risk behaviors.
In the last five years, New Mexico made the greatest improvement in youth alcohol use and youth smoking. Youth alcohol use improved from a rank of 35 in 2009 (40.5% of youth drank alcohol in the last 30 days) to 15th (31.6%) in 2013. Youth smoking improved from a rank of 49 in 2009 (24% of youth smoked at least one cigarette in the last 30 days) to a rank of 31 (14.4%) in 2013. New Mexico's rank also improved from 2008 to 2013 for deaths from stroke (from 13th to 7th), deaths from pneumonia and influenza (25th to 19th), and deaths from falls among persons age 65 and over (49th to 41st), and from 2008 to 2012 in the number of self-reported days with "not good" mental health (41st to 33rd) and "not good" physical health (46th to 39th).
To see the complete list, read our How New Mexico Compares publication.
---
Media Contact
We would be happy to provide additional information about this press release. Simply contact David Morgan at 575-528-5197 (Office) or 575-649-0754 (Mobile) with your questions.
---
Versión en Español
En un esfuerzo para hacer que nuestros comunicados de prensa sean más accesibles, también tenemos disponibles una versión en español. Por favor presione el enlace de abajo para acceder a la traducción.
Nuevo México se Clasifica en la Cima en Varias Categorías de Salud