New Report Offers Insights for LGBTQ Health Needs in New Mexico
---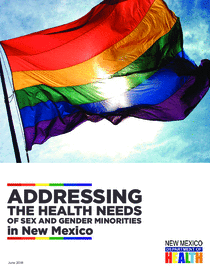 As our state and nation celebrate National LGBT Pride Month this June, the New Mexico Department of Health releases our report, Addressing the Health Needs of Sex and Gender Minorities in New Mexico. There's a lot to unpack in its 30 pages.
In New Mexico:
Sexual and gender minority (SGM) populations, including lesbian, gay, bisexual, transgender, and queer (LGBTQ) people, suffer from numerous disparities in physical and mental health, as well as access to and use of health services;
perceptions or fear of discrimination can discourage SGM people from obtaining treatment for health issues. These issues include seeking preventive care (such as vaccinations, tests for HIV and STIs), and cancer screenings;
and SGM youth suffer disproportionately from negative health and psychosocial outcomes such as low self-esteem, self-mutilation, depression, suicide, and substance use when compared to heterosexuals.
Many of the stats in this report may sound daunting for some. For us, it's an opportunity to rise to an important challenge. Public health and wellness is our mission – and it's important that the needs of people in this state are met consistently. The report offers many recommendations to assure we do just that.
Pride comes in many forms. For one, I personally am proud of the work the New Mexico Department of Health has done to produce this report. We serve the people of New Mexico. All the people of New Mexico.
I'm also proud of our Infectious Disease Prevention efforts June 8th for the Albuquerque Pride where we be providing HIV and syphilis rapid testing at both the event and at our Midtown Public Health Office. And I'm proud of the efforts in Las Cruces, where every week this month, the local employees are invited to participate in a weekly screening or webinar during their lunch hours to learn more about a population they may medically treat, yet otherwise, know little about.
Finally, I'm proud of all your efforts to learn and develop a better understanding of all New Mexicans. We have planned a variety of outreach efforts statewide on NMDOH social media and at your local public health offices. Stay tuned for more details in your state email on film screening & discussion events, and webinars being offered this month.
I encourage you to click on the report link above to see for yourself the challenges of this community – and NMDOH's recommendations to provide the assistance our fellow New Mexican's need.