Conrad State 30 J-1 Visa Waiver Program for Physicians
The New Mexico J-1 Visa Waiver (Conrad State 30) Program allows foreign medical graduates to obtain a waiver of their 2-year foreign residence requirement in exchange for a commitment to practice in underserved areas of New Mexico after the completion of their training.
Under the Conrad State 30 Program, the New Mexico Department of Health (NMDOH) may support the requests of up to 30 candidates per federal fiscal year for these waivers. Up to 10 waivers may be used in non-designated areas as long as they serve patient populations from designated medically underserved areas.
---
Application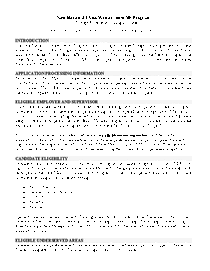 The J-1 waiver applications are accepted at the beginning of September of each year. The application process is on a first come, first serve basis. Applications are accepted until all 30 waivers have been filled.
Process
A physician wanting to apply for a waiver recommendation from the NMDOH must submit a complete New Mexico J-1 Waiver Application 2018 packet.
Applications and all supporting documents should be sent to the NMDOH J-1 Visa Waiver Program Coordinator. When the application packet is received, the J-1 Visa Waiver Program Coordinator will review for completeness.
NOTE: Waiver slots will not be reserved with incomplete applications packets.
After review of the complete application packet, a decision for a letter of support from NMDOH typically takes 4-6 weeks.
If a letter of support is granted, the NMDOH J-1 Visa Waiver Program Coordinator will send the completed application packet directly to the Department of State (DOS). According to the DOS website, "the estimated processing time for review and approval is about 6-8 weeks. At the conclusion of the review process, the DOS will forward its recommendation to the United States Bureau of Citizenship and Immigration Services (USCIS). USCIS makes the final determination on wavier requests."
Forms
---
Tools
The Medically Underserved Areas Find is used to identify areas or populations designated by HRSA as having too few primary care providers, high infant mortality, high poverty or a high elderly population.
The Health Professional Shortage Areas Find is used to identify areas designated by HRSA as having shortages of primary care, dental care, or mental health providers and may be geographic, population, or facilities.
The United States Department of State - Visa Residency Waiver Guide describes eligibility, how-to-apply, and additional information about the Waiver of Exchange Visitor Two-Year Home-Country Physical Presence Requirement.