Birth Control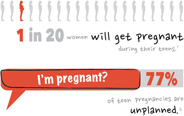 Most pregnancies in unmarried, young women are unplanned.
Without protection, couples who regularly have sex have an 85% change of getting pregnant within a year. Using a birth control method can help you follow your RLP.
Please continue reading to learn more about birth control!
---
Methods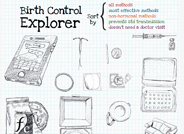 What kind of birth control is best for you? Do you want a birth control method that:
You take every day or change out every week/month; or
You receive at a clinic every few months; or
You receive at a clinic every few/several years?
Visit the Birth Control Explorer web page for a whole bunch of great info about all the different birth control options.
Most Effective
The most-effective Birth Control Methods include the following:
Implant — A small plastic rod that goes in a woman's upper arm; it's good for up to three years.
Intra-Uterine Devices (IUD) — A t-shaped device that is placed by a clinician into a woman's uterus. All IUDs keep sperm from reaching a woman's eggs and can stay in the body for 3-10 years.
Please visit the Whoops Proof website for great info on the implant and IUDs methods.
Moderately Effective
Birth control methods that are moderately-effective include the following:
Shot — Women need a new shot once every 3 months.
Pills — Women need to take at about the same time every day.
Ring — A small, bendable plastic ring placed in the vagina. Leave it in for 3 weeks, take it out the 4th week.
---
Learn More
The clinic locator to the right allows you to search by city/state or zip code to find family planning services near you that offers low-cost or no-cost birth control options. If you can't find a clinic, or can't find the answer to your question, call 505-476-8882.