Tobacco Use Prevention and Control Program
Publications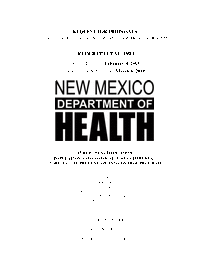 Comprehensive Tobacco Program Evaluation Services
Tobacco Cessation - Request for Proposal
February 4, 2019 - March 8, 2019
The purpose of this RFP is to solicit sealed proposals to establish a single contract through competitive negotiations for the procurement of comprehensive and independent program evaluation services for the NMDOH, PHD, and the TUPAC Program.
---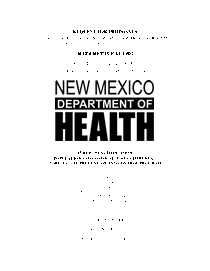 Environmental Strategies to Reduce Adult and Youth Tobacco Use
Tobacco Cessation - Request for Proposal
January 28, 2019 - March 15, 2019
The purpose of this Request for Proposals to secure multiple contracts for tobacco use prevention and control initiatives in New Mexico. Offerors will propose objectives and activities that are aligned with the goals and objectives of the New Mexico Department of Health, Public Health Division, the Tobacco Use Prevention and Control Program.
---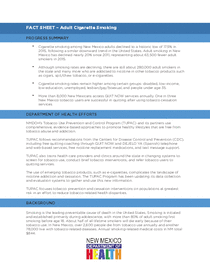 Adult Cigarette Smoking Fact Sheet
Tobacco Cessation - Help
February 13, 2017
This is a fact sheet about adult cigarette smoking in the State of New Mexico.