Abuse, Neglect & Exploitation Provider Training
DHI has implemented a new ANE training process. The new training is a competency based curriculum utilizing a train the trainer model with standardized course materials to ensure consistency statewide. The key elements of the course include, community awareness and prevention, recognizing and identifying ANE, and reporting ANE.
---
Registration
New -IMB-ANE train the trainer process is being offered in each region, and those interested in obtaining trainer certification may register at the Train New Mexico website.
Questions about training may be directed to our ane.training@state.nm.us email address.
---
IMB-ANE Certified Trainers
The following videos, power point and training documents are provided to DHI-IMB certified trainers for their use when conducting training on ANE. Only DHI-IMB certified trainers may use these resources and in the manner as set forth by DHI.
NOTE: If you are not a certified trainer and would to become a certified trainer, please register for the next certification class at the Train New Mexico website.
Training Materials
Please continue reading for Training Videos and Training Documents including a comprehensive ANE Training PowerPoint slideshow presentation.
Videos
These videos are a companion to the ANE Training PowerPoint document. They should be viewed in the sequence presented below.
NOTE: Videos from "The Choices We Make" series have been posted here by the writer and director Nyla McCarthy. The Department of Health would like to recognize and thank Ms. Nyla McCarthy for her permission to use these videos for training purposes.
Documents
Section 1
Section 2
Section 3
Section 4
---
Old Provider Training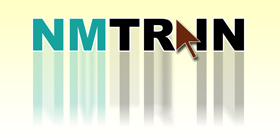 The Reducing Risk for Individuals Served in Community Based Services training is intended as a resource for providers and service contractors. It should be used as a starting point for community providers and service contractors in developing and establishing an incident management system, which is required by NMAC 7.1.14.9.
The training includes the following information:
Explain changes to the DHI IMB system based on the NMAC revisions. (effective 7-2-2014)
Explain how to recognize abuse, neglect, exploitation, environmental hazards and suspicious injuries.
Explain who is protected by NMAC regulations.
Explain the definitions of abuse, neglect, and exploitation.
Explain your duty to report and how to report abuse, neglect, exploitation, suspicious injuries & deaths.
Explain how to keep people safe after reported abuse, neglect, exploitation, suspicious injuries & deaths.
Explain state regulations related to incident management.
Explain the DHI/IMB investigation process and the role of the provider.
Explain components of the ANE quality management/quality improvement system.
Show examples of new IMB forms and indicate how to fill them out properly.
Online Training
This Online Training is now being hosted on NM.TRAIN. If your new to the system, visit the Train New Mexico home page and click the big blue [CREATE ACCOUNT] button to get started.
After you have created an account please return to this page and use the following links to jump directly to each of the seven modules that encompass this training.
You can also write down any of the Course IDs and use them to jump directly to the modules once logged onto NM.TRAIN.
For login and password help, please contact us at our ane.training@state.nm.us address.
---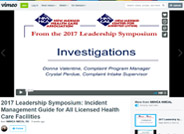 ANE Training for Licensed Healthcare Facilities
DHI has developed the following training for licensed healthcare facilities on the Reporting Requirements for all Licensed Healthcare Facilities.
Please view the Incident Management Guide for All Licensed Health Care Facilities Video page to watch the video.