Clinical Services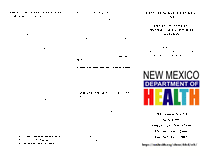 The Clinical Services Bureau was initiated in 2005 to provide oversight of statewide Clinical Initiatives and Quality Initiatives, Nursing Services, Therapy Services, Specialty Clinics, resource development and Clinical Services Training.
Our bureau is available for consultation to providers, teams and family members. We collaborate with the Human Services Division, UNM Clinical Partners, and other state entities to support services for individuals with IDD.
---
Learn More
Please see our Clinical Services Brochure to learn more about the clinical services bureau.
---
Recent Activity
Latest
Popular
Latest
Popular