The OPA mobilizes resources and provides technical guidance to others on the three core functions and the ten essential public health services. Currently, the NMDOH, NMSU and UNM are working together, through the Public Health Learning Collaborative to develop workforce training in public health principles and skills.
The OPA also provides training on Results-Based Accountability (RBA) with the goal of building workforce competency in the meaningful use of data for assessments and subsequent performance improvement strategies. The guidance to others - not just the public health workforce, but also our community and tribal partners - conveys the relevance and value of combining data to tell a story, inform a policy, avert an unwanted outcome -- save someone's life.
The OPA also offers training and technical assistance on Ethical-Based Decision Making: Values in Action (VIA). Values in Action is a straightforward process with five steps. Each one focuses on a key questions that generates open, productive dialogue about the dimension of values and importance.
The OPA is committed to expanding expertise in the broader health system workforce for using data to create a context from which to design interventions or create crucial feedback loops that ultimately impact health. In addition, the OPA mobilizes support for the sharing of health information which is a precursor to the optimal use of health information.
---
Internship Program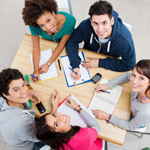 The New Mexico Department of Health (NMDOH) Internship Program provides an opportunity for undergraduate and graduate students to gain real-word experience in a practice setting, as well as contribute to the department's mission. High School students are also encouraged to apply. Interns are supervised by public health practitioners who will provide them with internship experiences that closely align to the students' professional goals, abilities, and areas of interest.
The NMDOH Internship Program encourages professionalism, and provides an opportunity for students to develop positive work habits. Students can gain academic credit for their work experience and work with professionals in their career field.
The NMDOH offers internships in the following areas based upon availability:
Business
Environmental Health
Epidemiology & Response
Information System & Technology
Public Health
Healthy Equity
Communications
Research
Scientific Laboratory Division
Healthcare Facilities
Social Work Intern
This internship opportunity is within the Developmental Disabilities Support Division/Department of Health. Interested interns will work with the Mental Illness, Intellectual Disability and Related Condition population by determining if they meet the federal criteria for PASRR. PASRR is a federally mandated program under the Omnibus Reconciliation Act (Public Law 100-203) and 42CFR 483.100-38 which requires that any resident, regardless of payment source, applying for admission to or residing in, a Medicaid certified Nursing Facility be screened for mental illness, intellectual disability or related conditions which affect intellectual functioning. Additionally, the intern will work within the Developmental Disability Waiver program.
The selected candidate(s) will process Level I identification screens, participate in evaluating individuals, collect and enter data onto the PASRR database, and maintain client contact logs. Additionally, the selected candidate will complete HIPAA training.
The selected candidate should have a knowledge about mental illness, intellectual disability population, computer knowledge, strong writing skills. BSW/MSW candidates only.
If you are interested, please send an email to our address.
Availability: Spring 2017, Summer 2017, or Fall 2017
If you have any questions please let us know at the address.